Police investigating the disappearance of airman Corrie McKeague say they are confident his body will be found at a landfill site.
The RAF serviceman went missing while on a night out in Bury St Edmunds, Suffolk, on 24 September.
On Tuesday (7 March), Suffolk Police revealed a bin truck which collected waste from an area where the 23-year-old went missing was carrying a significantly heavier load than previously thought, from 11kg to nearly 100kg.
The force is now searching a landfill in Milton, Cambridgeshire for his remains, with one theory being that McKeague drunkenly climbed into the bin to sleep and then was tipped into the crusher of the truck collecting refuse .
Det Supt Katie Elliott told Cambridge News she was confident he will be found at the site.
"We found out a few weeks ago that the weight was given wrongly – and now our search is fully justifiable," she said on Wednesday.
"At the outset of the investigation, we had information that Corrie's phone signal was tracked at a similar time to the weight disposal lorry. But because we were told that the weight collected was only 11 kilos, to come and search here – on limited and very scant information, to the extent we have now – for a phone [...] couldn't have been justifiable.
"It's by going through diligently and methodically with the information we have – and now I have a strong hope we will be able to find answers for his family.
"I have a strong belief that we will find him here."
Det Supt Elliott said the search area is around 920 square metres, up to a depth of eight metres. The 10-man search team is expected to take up to 10 weeks to cover the landfill site at a cost of £500,000.
Det Supt Elliott added: "We have had to consider what condition he'll be in when we find him, but we really won't be able to understand that until we find him. There are lots of factors that could influence that and we've taken advice, but until we find him we can't say.
"We don't fully know what could have happened to Corrie. We don't know if he was alive when he went into the bin, or alive in the wagon – we don't know."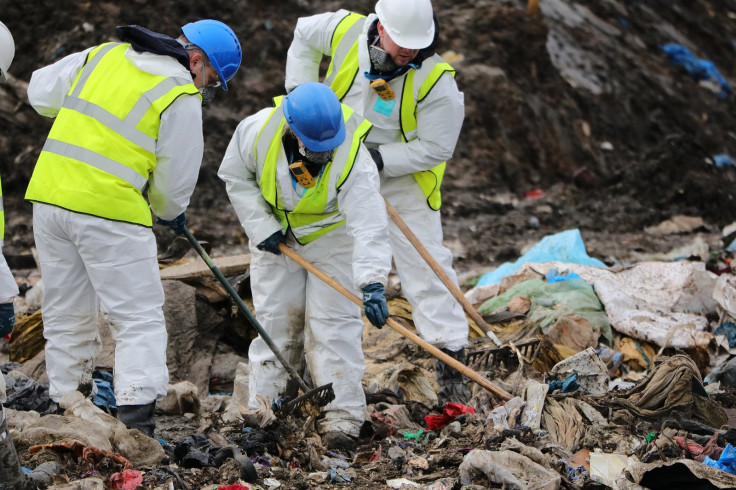 The discrepancy in the bin lorry's load originally led to the arrest of a 26-year-old man on suspicion of perverting the course of justice.
Police say he faces no further action as they now believe there was no deliberate attempt to mislead investigators, and that it was a genuine mistake by the company responsible for calculating the weight.
On Tuesday, McKeague's mother Nicola Urquhart, a police officer from Dunfermline, revealed her anguish over the new revelations, saying it could "only mean one thing".
The disappearance of McKeague – who was to become a father – has baffled friends, family and Suffolk Police.
He had been out drinking in Bury St Edmunds town centre on the night of his disappearance, with CCTV showing him taking a nap in the doorway of a shop before wandering into a loading bay known as the "Horseshoe" at 3.25am.
CCTV cameras did not show him leaving and he has not been seen since.
Signal data from his mobile phone was tracked to Barton Mills near Mildenhall, indicating it had been carried in a vehicle. The movements of the phone matched those of the bin lorry which was later impounded by police, but no clues were found at the time.
When asked if she believed police made errors during the investigation, Det Supt Elliott said: "No, we've conducted the investigation methodically right from the start, with specially trained detectives, and our priority right the way through has been to find Corrie.
"We are where we are because we've worked carefully through the extensive information that's been made in the investigation."