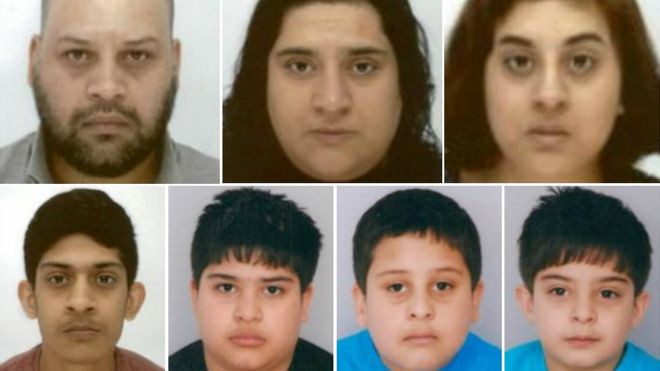 Arshid Siddique, the first cousin of both Imran and Farzana Ameen who are believed to have fled the UK with their five children to either Syria or Iraq is perplexed as to why any parent would want to take their children to a war zone.
"I can't understand it. I have three kids of my own, it beggars belief any mother or father would want to take their children to a war zone for whatever reason. My worst fears are they are going to a war zone, not for them, they are adults, it's for the kids," he said.
Siddique, who lives across the road to the family in Birch Lane, West Bowling, said their families were sick with worry. "I knew there was something not right here, then your worst fears are confirmed."
He said Farzana took her mother back to live in Pakistan where her brother lives and then returned to Bradford about two weeks ago. She had then told the extended family that Imran had secured a job in Dubai and that they would be leaving soon. No specific date was mentioned. Imran sold car parts online.
After saying their goodbyes, the family disappeared and there has been no contact since to say whether they had arrived in Dubai nor how they were settling in, he said. Siddique told the Telegraph & Argus that although the family prayed five times a day, neither adults were particularly religious. Farzana did not wear a face veil and had more English friends than Asian ones.
He however noted that the eldest girl, Isma Imran, 15, was pulled out of school for home education. "We should have seen the signs. Even at that time there was something telling me something was not right. I never thought it was anything to do with what she has now done."
Police have released pictures of the seven members of the family and have said that they are believed to be travelling to either Syria or Iraq. The family traveled to Turkey on one-way tickets from Manchester to Antayla, Turkey on 6 October.
The children were taken out of school on 29 September
The five children have been identified as Isma Imran, 15, Moeen Imran, 14, Mohammed Muneeb Imran, 11, Ismail Imran, 8 and Mohammed Imran, 5. The children were reported to have been taken out of their schools, Bradford Academy and St Mathews Primary School in West Bowling before leaving the country.
Gareth Dawkins, the head of Bradford Academy said that the children were removed from the school "following a process defined and agreed with Bradford Council, and we are satisfied we adhered to that process in both letter and spirit." Similarly, Bob Curran from the St Matthew's Primary School said that three of the children were removed from the school roll on 29 September at the request of the parents.
"In this case, we had no reason whatsoever to believe that the children would be put at risk after they left our school roll." A Bradford Council spokesman said that the family had opted to home-school their secondary school-age children and that they were being monitored the usual way. "For the primary school children, the family informed the school that they were leaving the area and took the children off the school roll. In both cases there was no reason to believe that the children were at risk," the spokesman said.
Police say family not on police radar
Imran's brother, Rehan Noor-Ul-Ameen, 30, had travelled to Turkey on 29 July and has not been seen since, West Yorkshire Assistant Chief Constable Russ Foster said. He told a news conference that the missing family and Rehan were not on any police watch lists.
"This is the first time the family has come to the notice of West Yorkshire Police. They weren't on our radar at all, we know very little about them. We are keeping an open mind, but we haven't ruled out the possibility that the family may have travelled to Syria or Iraq."
He continued: "We know that Turkey is a well trodden path for people to get to Syria and parts of Iraq. We are operating under an assumption that they may have gone to Syria or Iraq, but we don't know for sure that this is the case. This is a missing from home inquiry at this time. Our main concern is the safeguarding of the five children."
There are currently no links with the missing family and the Dawood family, who also went missing from Bradford in June.