Hamid Hakkar, one of France's most wanted criminals was caught by police in Spain, despite his disguise in a wig, devil mask and pitchfork. He was targeted in a police raid after a tip-off that the hitman would be at a fancy-dress party.
French gendarmes released video footage of him being taken into custody on Friday (4 November), with photos of his Halloween disguise. He was cornered at the Muelle Uno shopping centre in Malaga under a European Arrest Warrant.
A Spanish police spokesman stated: "We have arrested a 47-year-old Frenchman who is one of the most wanted fugitives in his country and had a European Arrest Warrant hanging over his head.
"He is the alleged leader of a gang of contract killers working for drug gangs and is suspected of being the brains behind the escape of a French criminal from jail.
"Information at our disposal pointed towards him attending a Halloween party with other members of his organisation.
He was held while dressed as a devil at a party which he was attending with two alleged accomplices."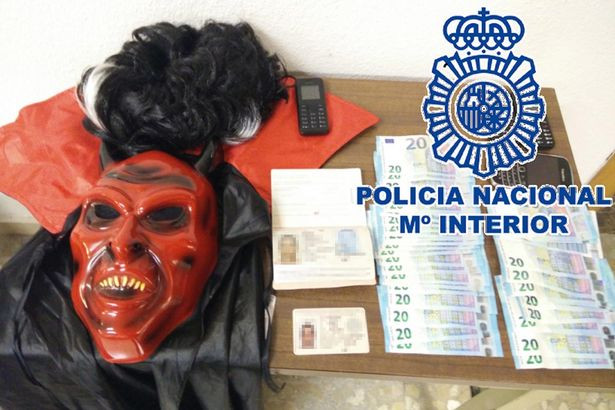 The other two men held are suspected of helping Hakkar, are both Spanish and are reported to have helped him escape capture by lodging him in a safe house and providing fake identities, according to Le Parisien.
The 47-year-old hit the headlines for assisting in the Paris jail escape of bank robber Antonio Ferrara in 2003. It drew similarities to the Hollywood movie Ocean's 11 for its audacity and boldness. He received a two-year jail sentence for his involvement in the prison break.
In 2013, Hakkar went on the run after fleeing from a temporary 10-day release from prison as he was coming to the end of a 15-year-prison sentence for the murder of a drugs dealer.
Hakkar, who also went by the name of "Julio", after Spanish singer Julio Iglesias, was on France's most-wanted list for murder, drug trafficking and money laundering.