Why did the chicken cross the road? To get the high score! Okay, it's not a joke, but that's the basis of Crossy Road, one of the year's best and most important mobile games.
Developer Hipster Whale has crafted a simplistic and addictive "endless arcade hopper" that the world is quickly falling in love with. At the time of writing it proudly boasts an impressive five star average rating from over 40,000 users on the Apple App Store.
This being such a busy time for the video game industry and its biggest names only makes the success of the small stature game all the more impressive, but what is it and why does it work so well?
Crossy Road best fits into the endless runner sub-genre of mobile games, but is best described as an infinite version of classic video game Frogger. In a stylised pixel world you play (initially) as a chicken whose aim is to cross as many roads, railways and rivers as it can without taking a plunge or getting squashed.
It is most reminiscent of Dong Nguyen's Flappy Bird, and not just because its name is a riff on this year's world-conquering hit. Both are designed for short bursts of play and offer just enough of a reason to think you'll do better next time.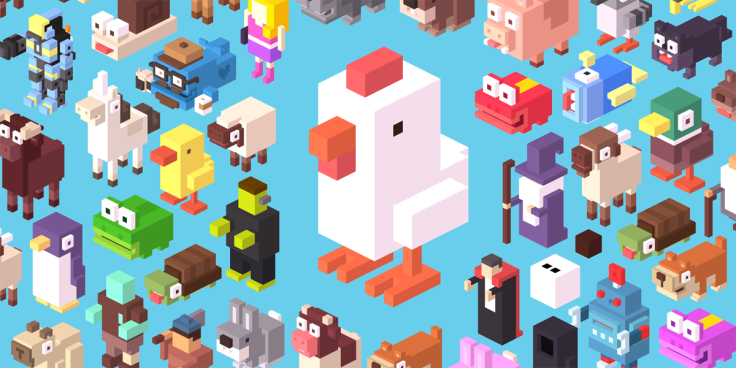 There's a base similarity, but whereas Flappy Bird is designed for optimal frustration, Crossy Road is calmer and more fun for it. The former grabbed the headlines but the latter is more deserving of them, and that is down to the approach of its developer.
After each road-crossing attempt you'll receive a free gift, which will either grant you coins (to spend on a prize drawn at random) or a new character to play as – with horses, ducks, wizards, robots and fish among the 49 unlockable avatars.
Being a free-to-play game players also have the ability to purchase new characters for 69p a pop. Yes, Crossy Road is free-to-play, but the class with which it approaches those typically murky waters proves to be one of the game's strongest aspects.
Freemium games have proven controversial due to the exploitative nature of many titles designed from the ground up to make as much money as possible. The typical paid iOS game costs little more than pocket-change but in-app purchases can turn each consumer into a cash cow.
Adults can make their own decisions regarding purchases, but problems have arisen when children decide to have a go and don't realise how quickly small payments add up. Suddenly the ease of making in-app purchases becomes a dilemma, with some parents being landed with huge bills.
The free-to-play model isn't itself a dark art, just a method regularly used in nefarious ways. Crossy Road serves as proof of the model's merits.
It has in-app purchases, but never prompts or encourages users to spend. In fact the only notifications you receive are reminders that you have a free gift to unwrap. The options to buy characters are inconspicuous compared to instances in other games.
Freemium mobile games work best when the model is used to support an already robust and complete game. Crossy Road is exactly that, an impressive, well made and fun game (routinely freemium games aren't particularly fun to begin with) that could easily be a £1.99 game without in-app purchases and with few differences.
Crossy Road is a great reminder that a free game doesn't always come with a catch. Sometimes they're just games the creators want to share with as many people as possible, and when that game is as good as this, it's basically a gift.