Daredevil series two isn't landing until 18 March, but it's safe to say that Marvel fans are already more than excited. Not much is known about the plot so far other than the fact that Fury's Jon Bernthal is stepping into Wilson Fisk's shoes as the villain this time round.
Bernthal is playing The Punisher, a well-known antihero from the Marvel Comics Universe, who is expertly trained in Marine-style hand-to-hand combat and numerous martial arts. We know what you're thinking: a formidable-sounding foe for our blind lead Daredevil, aka Matt Murdoch. But other than the fact that he'll be featuring, we don't really know much about what influence he'll have over the residents of Hell's Kitchen, New York.
During a small round-table interview at the TCA Press Tour, stars of the series Elden Henson (who plays Matt's long-time friend and law partner, Foggy Nelson) and Deborah Ann Woll (Karen Page) discussed Bernthal's introduction and how it felt to have a newbie on set.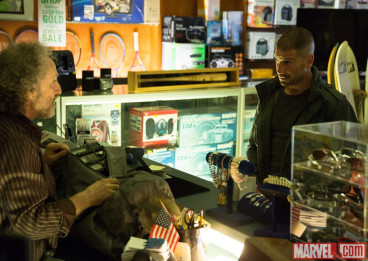 "This is just from a personal standpoint, but the energy and excitement that people bring, being new on the show, gets us all super-pumped," Henson enthused. "When we heard Jon was going to play The Punisher, I know I was like, 'That's perfect casting!' He's like an exposed nerve. He's just really, really intense. I was excited.
We just have such a great group of people on our show, with cast and crew and everyone, so any time we can get more people at the party, it's always good."
Woll elaborated: "I don't know if this speaks to things being different – it might actually speak to things being the same – but something really interesting is that, even though the villain in the first season was Kingpin, and this year we have The Punisher, I actually find that I call them Wilson Fisk and Frank Castle more often than I call them by their villain names.
"I think that that speaks to what our show is trying to do, and that all of these people are people first, and then they are the superhero or supervillain. What you saw with Vincent, and what you will see with what Elodie [Yung, who is also joining as Elektra] and Jon bring to it, is that these are human beings first, and they are complex people who take on these personas to help them get done what they have to do."
When asked about how the dynamics of the show and how their own characters fit into to the superhero world, and more importantly how they hold their own against those beings with superpowers, Woll answered simply: she thinks that "heroism comes in different package" and that every character has their unique worth in each situation.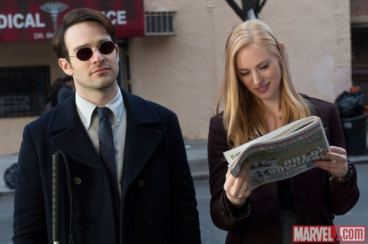 "The superhero package is one that we're familiar with, but I looked at that stuff first season with Elena [Cardenas], and I see what a hero Foggy is, just showing up to fix her plumbing and patch her walls. That is heroic, no two ways about it. And Karen is searching for truth and saying, 'People did something awful to me, and I'm not going to stick my head in the sand and let it happen to others'. There's real heroism in that. I like the idea that, as a triad, we can represent brawn, brains and kindness, and all the different ways that you can contribute as a hero."
For more entertainment news follow A-List on Twitter @Alistinsider