All rejoice, David Brent is back! The first trailer for Ricky Gervais' Office spin-off movie David Brent: Life on the Road has been released, and it's almost broken the internet. The comedian tweeted the clip on Thursday (7 April) for the movie which he wrote, directed and starred in himself.
Gervais' most famous character – the obnoxious David Brent who we all love to hate – is working as a sales rep for a "Slough based cleaning products distributor" called Lavichem as he attempts to forge a career as a singer-songwriter. Genius. The trailer reveals that the format of Life on the Road will be shot in a similar mockumentary style as The Office, naturally, and sees Brent embarking on a solo cinematic escapade as he gets up to the same old tricks. The good news: he hasn't changed one bit. In fact, he's got slightly worse (in the best possible way).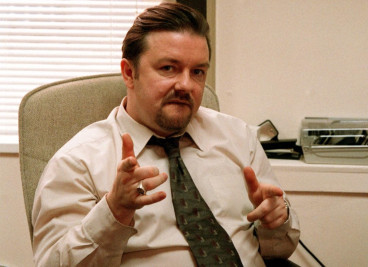 The BBC Films production sees Brent now working as a travelling rep salesman for both cleaning and ladies' personal hygiene products, though with Brent's fabulously delusional idea of himself, he's still clinging onto his ambitions of becoming an international rock star with his band Foregone Conclusion.
As he brings together a group of session musicians, as well as a sidekick for that all-important street cred and an extortionately priced tour manager, he'll endeavour to self-finance a tour of the country – whilst offending innocent bystanders along the way, naturally.
The trailer will also provide you with a few giggles thanks to the contents of one of Brent's songs – "It's about rock 'n' roll, but it's a metaphor for sex" – which he then proceeds to sing: "I'm gonna roll you over/And rock you stupid." Hilarious and grotesque at the same time – that's exactly why we've missed David Brent.