David Cameron v Outlander: PM met with Sony execs to stop Scottish rebel drama before referendum vote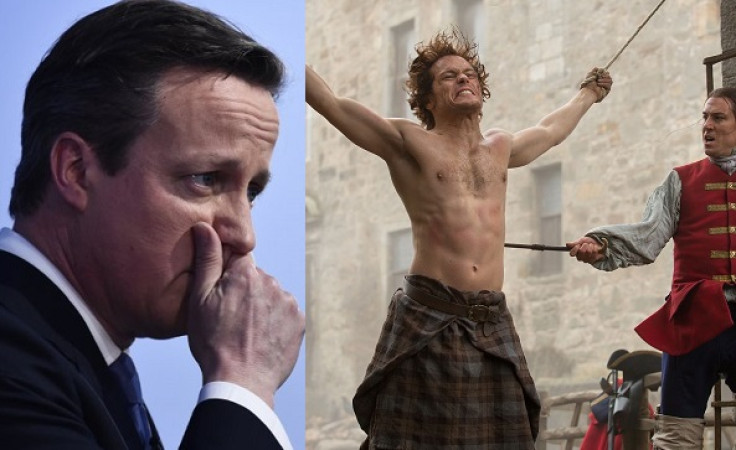 David Cameron met with Sony executives to discuss the TV show Outlander ahead of the Scottish independence referendum over fears of its "political importance".
Cameron is said to have met with the executives 10 weeks before the historic referendum to discuss the TV show, which was shown in the US last August but delayed in the UK until several months after the vote in September.
Outlander is based on the multi genre novels by Diana Gabaldon. The story is set between 1945 and the 18<sup>th century Scotland, featuring Scottish rebels fighting against British rule as part of the Jacobite risings.
There was much speculation as to why the show was not broadcast in the UK until after the Scottish referendum. It is now available to stream via Amazon Prime.
The details of Cameron's meeting disclosed by WikiLeaks, the whistleblowing website which has leaked thousands of emails and other documents in the wake of a cyber attack against Sony Pictures in 2014.
The email, sent from Sony vice president Keith Weaver to chief executive Michael Lynton and other senior Sony figures, said: "From a SPE [Sony Pictures Entertainment] perspective, your meeting with Prime Minister Cameron on Monday will likely focus on our overall investment in the UK – with special emphasis on the jobs created by [ITV show] TOMMY COOPER , the importance of OUTLANDER (i.e., particularly vis-à-vis the political issues in the UK as Scotland contemplates detachment this Fall)."
The Conservatives said they are not commenting on the leaked documents.
Gabaldon previously said she believes there is "no evidence" to suggest the delay in showing Outlander in the UK was influenced by the Scottish referendum.
She said at the Edinburgh International Book Festival last August: "There is a lot of talk and speculation as to why the show hasn't been sold to the UK yet. There is public talk, rumour and speculation, but there is absolutely no evidence on which to speculate.
"The most common rumour is that they're holding off until after the referendum on independence, but as far as I know there's no evidence whatsoever to suggest that's true."
While not discussing the meeting with Cameron, a spokesperson for Sony said: "The cyber-attack on Sony Pictures was a malicious criminal act, and we strongly condemn the indexing of stolen employee and other private and privileged information on WikiLeaks.
"The attackers used the dissemination of stolen information to try to harm SPE and its employees, and now WikiLeaks regrettably is assisting them in that effort.
"We vehemently disagree with WikiLeaks' assertion that this material belongs in the public domain and will continue to fight for the safety, security, and privacy of our company and its more than 6,000 employees."
© Copyright IBTimes 2023. All rights reserved.