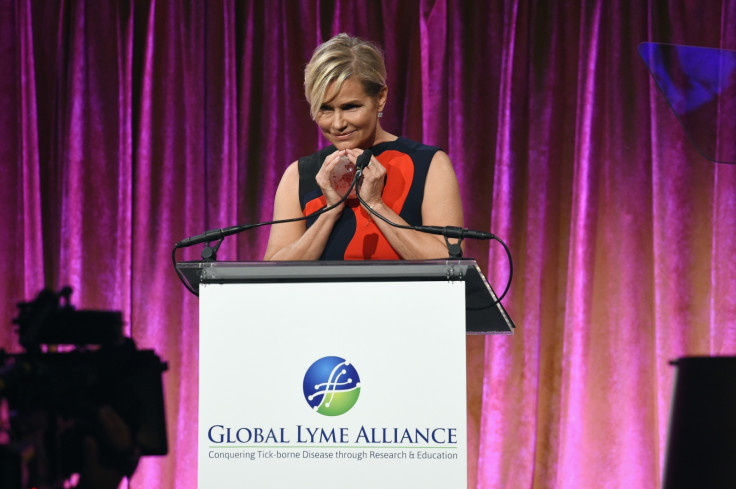 David Foster's daughters Sara and Erin Foster have a very strong message for Yolanda Hadid who was once married to their father. The Dutch model who is mother to models Gigi and Bela Hadid has been vocal about her struggle with Lyme disease.
Hadid's journey of recovery was closely documented in Bravos's Real Housewives Of Beverly Hills. However, Sara and Erin hold a different view on her ordeal and opine that if she was able to appear on a reality show, she can't be dying. "Look, this is how I feel. We don't comment to our friends on Yolanda's health. That's not for us to comment on. Only she knows her journey, but what I will say is if you're capable of continuing to be on a reality show, you're not dying, let's be honest," Sara said during an interview with Jenny McCarthy for SiriusXM radio show Dirty, Sexy, Funny.
Commenting on the 52-year-old television personality's illness, the daughters of the music mogul added: "Again, we are not doctors. We have no idea what goes on, and we don't wish anyone ill will of any kind," Erin added. "However, I think that from everyone's experience, if anyone's ever known someone who is very sick, who has cancer, who is dying, who's in the last year of their life, the only thing that person gives a s**t about is getting through the day and being treated normally. No one wants everyone to know how sick they are and everyone to see how much they're struggling, and when that seems to be the focus, making everyone see how sick you are, that's just confusing to someone who's trying to be supportive."
Hadid and Foster announced their divorce in December 2015, after being married for four years. Her battle against Lyme has received critical scrutiny, not only by her former husband's daughters but also by her show co-stars and fans, who have accused her of faking her illness.
In June, the former model, announced her exit from the Real Housewives show saying: "I am leaving what's over without denying its past importance in my life. I believe that every exit is a new entry and with that in mind I say goodbye to my@Bravotv Family as I continue to focus on my recovery and bring back the privacy within our home........... Thank you to all the fans for your love and unwavering support these past 4 years. I am grateful for the housewife experience and all it has thought me."