The defiant Philippine president Rodrigo Duterte has said he is not sorry for calling US envoy a "gay son of a whore" as a diplomatic row between the two countries deepens. Duterte called US ambassador Philip Goldberg the homophobic slur whilst speaking to an audience of soldiers last week.
As a result the US State Department summoned the Philippines envoy to Washington to seek his clarification on the "inappropriate comments" on Monday, 8 August. The US embassy on Friday reiterated that the polarising politician's remarks were "inappropriate and unacceptable".
Duterte , who is sometimes referred to as 'The Punisher', said he was annoyed after Goldberg criticised him for joking about the rape of an Australian missionary who was sexually assaulted and murdered in a 1989 prison riot in Davao, the town where he was mayor. But instead of adopting a conciliatory tone the bombastic president has refused to apologise for the comments he made during his successful election campaign in May.
"I will not apologise for anything. He did not apologise to me when we saw each other. Why should I apologise to him?" Duterte said whilst visiting a military camp on the embattled southern island of Jolo. "Who would not get angry at him? It was election time and he said something like that?" he added according to the Guardian.
Duterte, who is also nicknamed 'Duterte Harry' by some of the Filipino press, has been internationally criticised after he authorised death squads and vigilante groups to murder suspected drug dealers in the country. Since his appointment as president, between 320-550 people have been killed by vigilante groups and police. The policy is a follow-on from Duterte's time as mayor of Davao when he authorised a similar lethal assault on the city's drugs trade.
Duterte's new purge has led to 3,600 people had been arrested for drug-related offences and 120,000 people turning themselves in, leaving prisons at breaking point.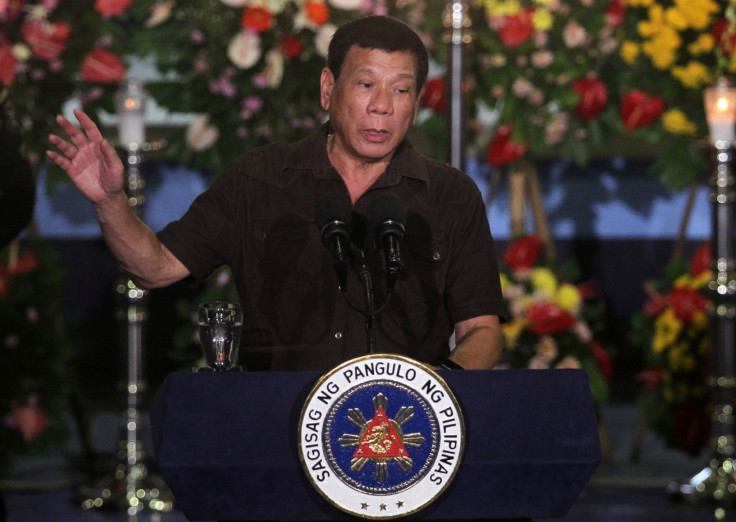 Duterte has publicly accused judges and officials of involvement in the drugs trade and is also facing an Islamic State (Isis) linked insurgency in the country's southern islands. The Abu Sayyaf militant group has waged a war with the state for 25 years and have executed a number of high-profile captives in the past few months.
The US, which has recently provided $32m (£25m) in aid to the Philippines for law enforcement, has warned that aid to the country is dependent on human rights being respected. "All of our security assistance promotes human rights through training content and by promoting professionalism, due process, and the rule of law," the embassy said.