Diwali 2013: Bin Laden and Narendra Modi Fireworks Give Most Bang for Buck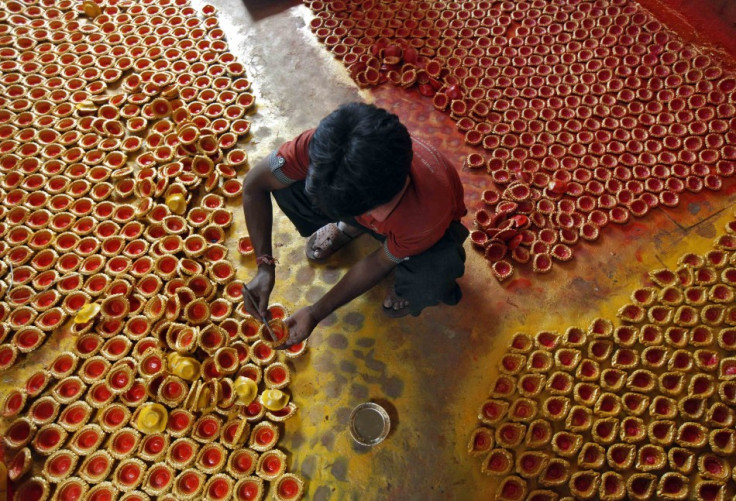 Diwali, the Festival of Lights, is India's biggest annual celebration. It is marked by millions of clay lamps that light up houses and streets across the country, symbolising the conquest of spiritual darkness by the force of inner light.
However, the celebration is not just about distributing sweets and lighting up the dark continent (more than 400 million people in India still do not have access to electricity).
The festival is also about millions of dollars worth of firecrackers that cover the cities in a psychedelic hue - crackers made in the southern city of Sivakasi, where child labour is rampant.
Cracker dealers have said sales are poor this year, mainly due to the increasing environmental awareness of the people. However, they add that firecrackers named after national icons, celebrities and pretenders can sell better.
The political subtext of the cracker sale looks more interesting this year. Cracker makers traditionally banked on Bollywood stars and cricket personalities to sell their wares. But this year, the person driving cracker sales most is Narendra Modi, India's rising political star and prime ministerial aspirant.
Modi is the pin-up boy of the Hindu nationalist party, BJP, as it prepares for the looming national elections, hoping to unseat a government that has been led by the Indian National Congress for nearly ten years.
Modi's pyrotechnics have already set the course for the general election, expected to be held in early 2014. His hotly debated legacy as Gujarat state's chief minister for more than 10 years is expected to be the main election plank this time.
Hindu nationalist forces have rallied around him and see in him a figurehead for national prestige. They project him as the person who can fill the "leadership vacuum", a clear reference to the low-key leadership style of Prime Minister Manmohan Singh.
Naturally, firecracker dealers realised the potential of "NaMo crackers" early enough.
"We've been selling the Modi flowerpot for Rs 1,000 [about £10] apiece. There are 12 other varieties of firecrackers, including rockets, sparklers, bullet bombs and classic bombs, named after him. Modi's face embossed on the firecracker packets is making all the difference, and they're flying off the racks,'' the Times of India quoted one dealer as saying.
Noticeably, Rahul Gandhi crackers are not as popular. The Congress party scion, whose father and grandmother -- both prime ministers of the country - were assassinated, has grand designs for the 2014 elections. His party portrays Modi as divisive and a threat to the fabric of the country, referring directly to allegations of Modi's involvement in the carnage in Gujarat a decade ago in which thousands of Muslims were butchered.
The political signs of the cracker mania around Modi can be disturbing for leaders of the opposite camp. He is popular even outside the Hindi heartland of north India.
In southern India, cracker dealers are surprised by his popularity. "Modi flowerpots are the first preference of buyers. These huge crackers burst into colourful sparkles. I hadn't imagined Modi-printed crackers would be accepted so well in Karnataka," the TOI quoted a vendor in Bangalore as saying.
Another cracker super hero is, surprisingly, Osama bin Laden. The "Laden 240" shots are in great demand, cracker sellers in Patna in north India said.
But no one beats Narendra Modi, whose popularity as a firework is a firm indicator of his rising political star.
"I'm a Modi fan. The moment I saw firecrackers with his name, I decided to go for all varieties," an IT professional in Bangalore told the paper.
Diwali is here, and campaigning for the 2014 general election has started with a bang.
© Copyright IBTimes 2023. All rights reserved.