DJI launches tiny Spark selfie drone controlled by the wave of your hand
Spark is a mini camera drone that follows you around, allowing you to take selfies using gestures alone.
The world's biggest consumer drone manufacturer DJI has launched a tiny personal selfie drone designed to follow users around and provide the experience that Kickstarter startup inventors have so far failed to deliver.
Spark is DJI's smallest ever drone – it weighs just 300g and has a body that is roughly the size of a Nokia 3310 mobile phone, but with 4 rotors sticking out and a camera that can capture 12mp photos and 1080p high definition video. The tiny unmanned aerial vehicle (UAV) sits in the palm of the user's hand and is launched into flight by the companion mobile app.
Once in the air, the drone is programmed to recognise gestures you make with your hands, meaning that you can get the drone to hover in place, send it away, recall it, get it to take a selfie and make it land again using just your hands. The drone is able to hover up to 98ft and it can sense obstacles from up to 16ft away.
The next level of vlogging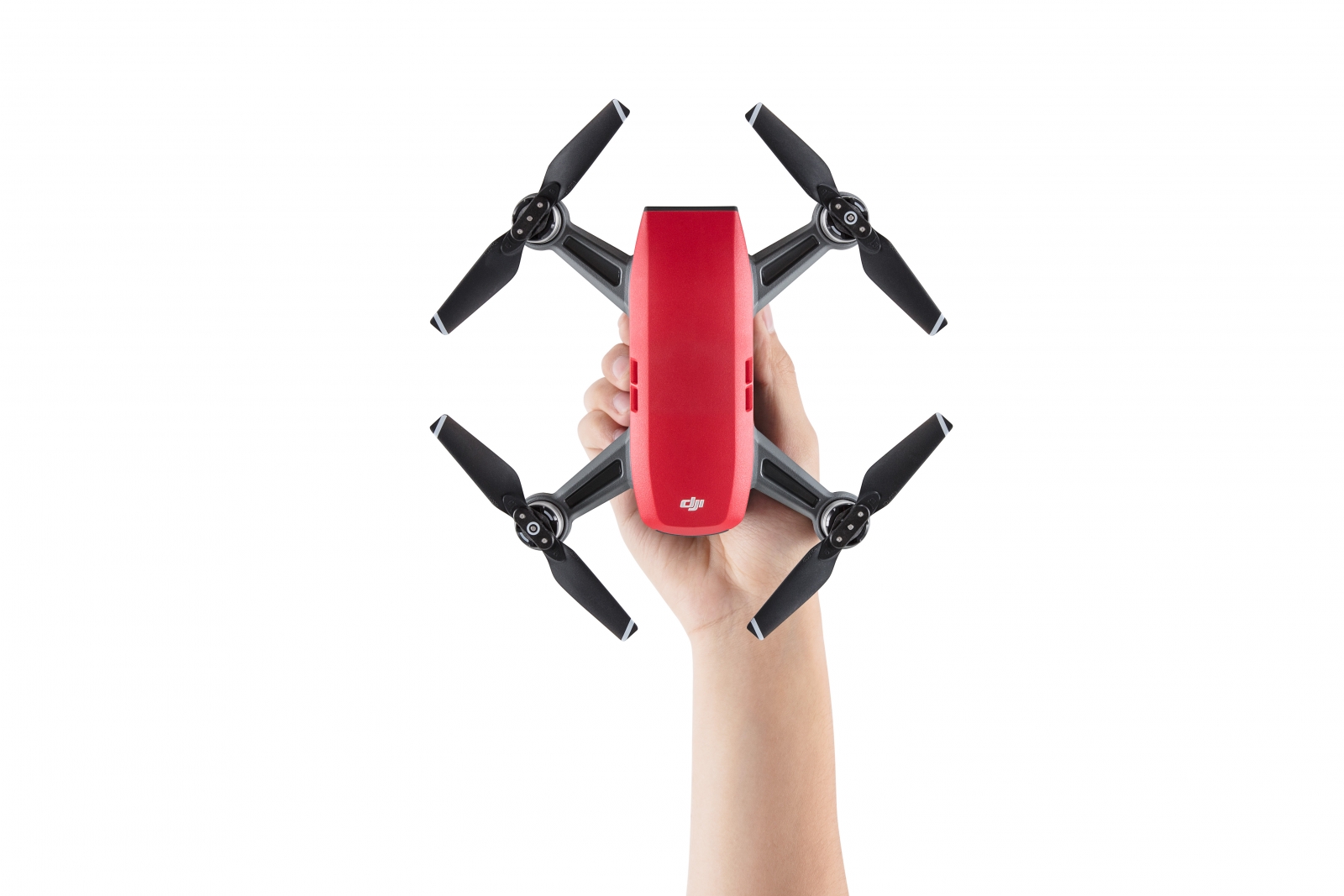 Users can also choose from four QuickShot modes to shoot more stylised 10-second videos. The drone can fly above you with the camera pointed downwards to record special moments, or it can circle the subject of your choice. You can also use it to create arty cutaway video footage like spiralling away from you while flying upwards, or flying up and away from you, if for example you wanted a full shot of a group of people on bikes together.
Spark comes in five colours – white, blue, green, red and yellow – and it features some of the latest technology DJI programmed into its Go app for the Phantom series of drones. One example is TapFly, which is the ability to tap your smartphone screen in the companion app and have the drone fly to the exact spot of your choice, and many of the automatic filters and editing templates are also available too.
The drone also lets users shoot panoramas in mid-flight, as well as to shoot photographs whereby the principal subject is in sharp focus, while the rest of the image is softened to provide a shallow depth of field.
The idea is for consumers to have a selfie drone that lets them capture special moments, and then edit them and share them to social media platforms like Facebook, Twitter, Instagram and YouTube quickly without having to first process the raw footage on a computer using video-editing software, or even instantly stream the video from a distance.
Selfie drones ahoy!
When the Mavic Pro came out in September 2016, it was clear that DJI had turned its attention to recreational drones as the Mavic Pro could be tossed into the air to capture stunts like jumping off the top of a cliff. However, its £1,249 price tag means that although it is much smaller than the Phantom or Inspire rage, the drone is still a product that only a prosumer or enthusiast is likely to purchase.
At £519 ($499 in the US), the Spark is still a pretty pricy consumer toy, however if it is as good as DJI says it is, then the drone manufacturer will have succeeded where smaller startups like Zano and Lily failed.
The idea of a personal drone to follow individuals around was first highlighted by UK-based aerospace and defence technology firm Torquing Group in November 2014.
The firm was trying to raise funding for its tiny quadcopter nano drone Zano on Kickstarter and it promised a myriad of intelligent features that would enable users to shoot videos and selfies without needing to use the controller at all times.
Zano's Kickstarter campaign was hugely successful and quickly gained a huge following from drone enthusiasts, but in November 2015 the firm spectacularly imploded after failing to deliver on the promised features, which led to Torquing Group's CEO resigning.
Besides Zano, another selfie drone that looks similar in size to the Mavic Pro was touted by a start-up called Lily, which was spun off by graduates of University of California Berkeley in May 2015. Sadly, Lily's creators also ran into trouble and are currently struggling to refund their disappointed backers.
© Copyright IBTimes 2023. All rights reserved.