Donald Trump's approval ratings hit new lows in August as the beleaguered US president struggled to get a grip of his flailing administration on many fronts and was criticised for his response to violent clashes at a right-wing rally in Virginia that led to the death of a woman.
The latest poll-of-polls compiled by FiveThirtyEight shows that 57.2% of US voters currently disapprove of Trump while just 36.9% approve.
These figures are the worst than at any point in Trump's presidency before August. However, they are slightly better than Trump's all time low, which came on 7 August – a 57.4% disapproval rating versus 36.6% approval.
Trump is suffering the worst ratings in modern history for any president at this stage of their first term in the Oval Office.
August has been a particularly chaotic month in the White House, even when judged by the standards of the Trump administration.
It kicked off with the fallout of Anthony Scaramucci's 10-day stint as official spokesperson and the resignation of Chief of Staff Reince Priebus on 31 July.
Special advisor Steve Bannon was next out the door, disputing claims that he was pushed, and then deputy assistant Sebastian Gorka resigned on Friday 25 August.
Meanwhile the genuine threat of a nuclear war with North Korea rumbled along in the background as did the multiple investigations into Trump and his administration's alleged links to the Russian state.
But August 2017 will likely be best remembered for violent scenes in Charlottesville, Virginia, when hundreds of right wing demonstrators gathered to protest the removal of Confederate Army general's statue.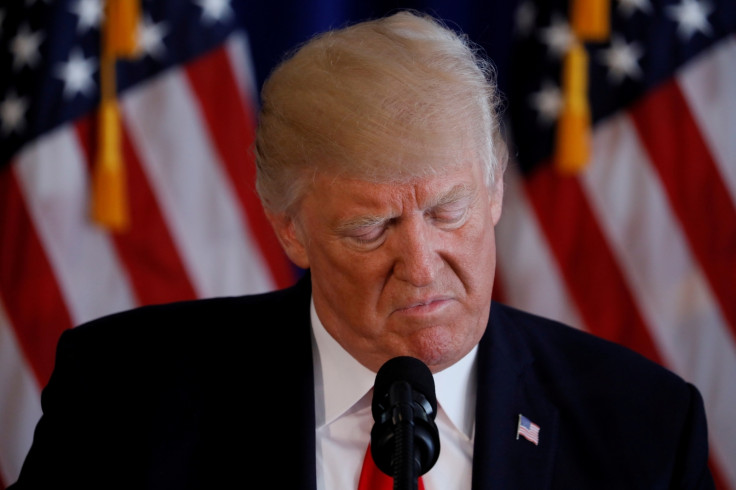 The group, which included men in KKK outfits and waving Swastikas, were met by around 1,000 counter protesters. Running street battles between the two groups climaxed when Nazi sympathiser James Fields, 20, allegedly drove his car into a group of counter-demonstrators, injuring at least 19 and killing Heather Heyer, 32.
Trump was pilloried in the aftermath of the alleged homicide for claiming that "there is blame on both sides."
"You had a group on one side that was bad. You had a group on the other side that was also very violent. Nobody wants to say that. I'll say it right now," he added.
However the poll-of-polls suggests US voters felt differently about his response than the US political and media establishments as his disapproval rating fell by more than a percentage point between 14 August and 17 August while his approval rating improved slightly.
Since then, however, both ratings started moving back in the directions that the unpopular Trump will be all too familiar with.