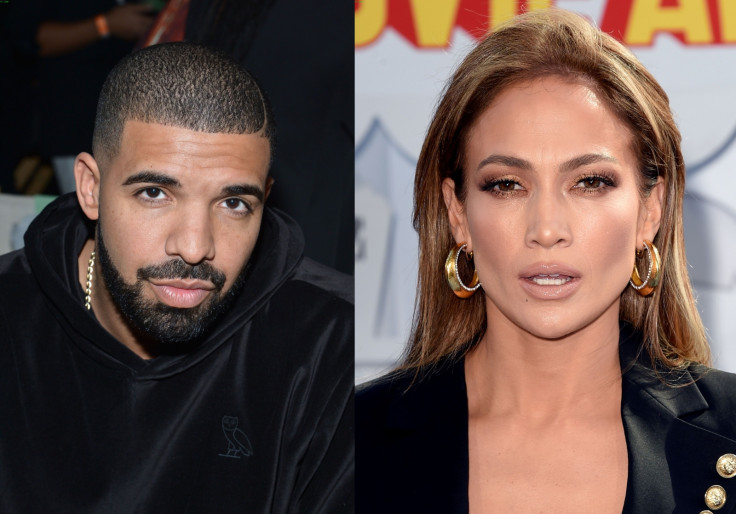 If there is anyone after Rihanna, who has been linked to Drake in such intensity and for so long, it is Jennifer Lopez. The music pair turned heads in the recent past with their adorable cuddled-up photos and intimate kisses; and now gossip reports suggest that the two might even be heading into a relationship.
The singer duo is "taking things as slow as they could, but a relationship may be in the works between them," a source told E! News shedding light on Drake and Lopez's blossoming romance.
As it seems, the Canadian singer has had a crush on the much older Lopez right since his childhood days, and is smitten by her as they grow closer by the day.
"[Drake is] completely falling for [the songstress]. He has always had a crush on her growing up, so the fact that this is all coming to life is pretty cool for him. He really likes her though," the insider quipped.
That's not all, the rumoured lovers seem to be getting along pretty well and not even their age gap seems to be a hurdle in their growing love. The source says, "They laugh and get along perfectly. The age gap is not an issue for him, because he digs an older woman. J.Lo has always been into younger men, so it's a good combo."
As the two singers continue to flaunt their fondness for each other, fans can only hope that they settle down soon. In fact, Drake seems to be of the same opinion, as an insider claims that the Hotline Bling hitmaker is looking for a serious relationship as well.
"He treats her like a queen and loves her work ethic and family values. This is the first girl besides Rihanna in a while that he is really into. Drake is looking for a relationship and something solid," said the source.
The Hollywood pair first sparked romance rumours when they posed like a love-struck couple on the couch. Later their romance talks were further fuelled when the two hit the Winter Wonderland event to be crowned the prom king and queen. Amid all this, speculations were rife that Drake's ex Rihanna wasn't taking the rumoured romance all too well.
"That picture of them together, all hugged up, made Rihanna sick. To the point where she wanted to throw her phone down three flights of stairs," a report claimed.