Dubai International Film Festival 2012: Frieda Pinto, Cate Blanchett Wow on Red Carpet [PHOTOS]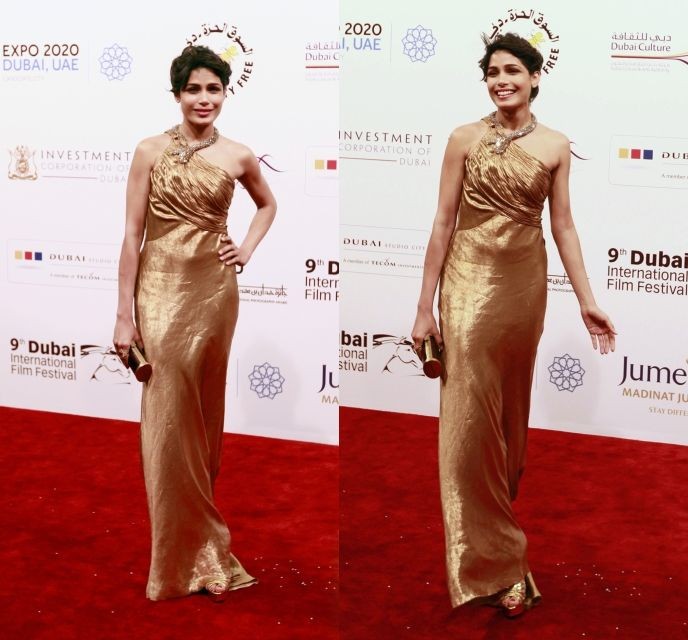 The Dubai International Film Festival (DIFF) 2012 opened to a spectacular evening gala, with actresses and actors from across all continents walking the red carpet showing off their best style statements.
And among them, Academy Award-winning actress Cate Blanchett and Dubai International Film Festival jury member Freida Pinto stole the show. The duo walked down the aisle in metallic gowns, while attending the screening of Ang Lee's Life of Pi. The premiere crowd was some 1,800 strong. They were joined by the cast of the film, including lead actor Suraj Sharma, Adil Hussain and Shravanthi Sainath.
Blanchett and Pinto wore strikingly differently coloured dresses but still managed to complement each other well. While Blanchett wore a metallic silver-layered chiffon gown with bronze panels around the middle, the 28 year old Pinto wisely opted for a metallic gold floor-length gown with a jewel-encrusted neckline, shaped like snake, which suited her skin tone. Both actresses styled their hair to make buns and aside from carrying matching clutches, both opted for a no-accessory evening; their dresses were sufficient to ensure the ladies looked exceptionally elegant.
The screening of Life of Pi was held at the Madinat Jumeirah Complex in Dubai in the United Arab Emirates, on 9 December, and saw several other prominent celebrities, including Lebanese singer Tawfik, veteran Egyptian actors Mahmoud Abdul Aziz and Ramzi, TV personality Mardinian and Syrian actor Ismail. Abdul Aziz and British director Michael Apted were presented with the DIFF Lifetime Achievement Award. Serbian tennis player Ana Ivanovic was also in attendance to walk the red carpet.
The Dubai International Film Festival, in its ninth edition, is on till 16 December. A total of 158 films from 61 countries in 43 languages will be screened during the festival, according to the organisers.
Check out the slideshow to view photographs of red carpet arrivals...