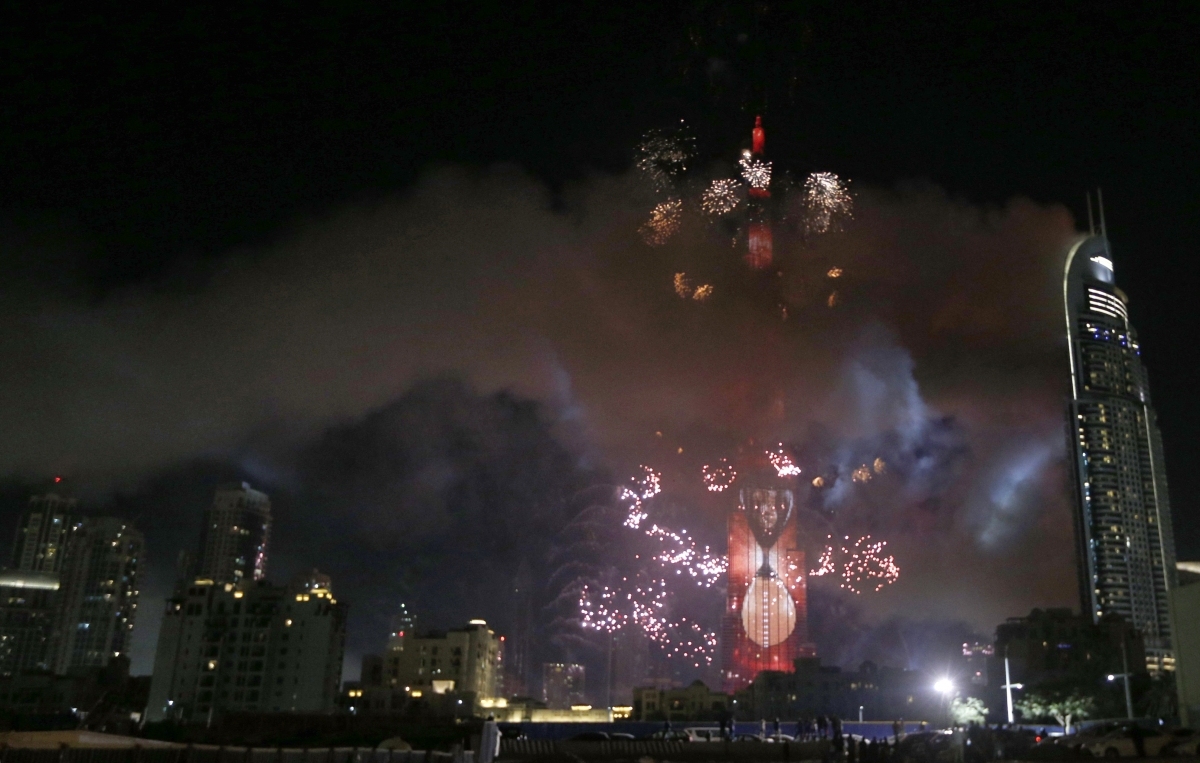 An enormous blaze engulfed the five-star Address Hotel in central Dubai just hours before the UAE's biggest city put on its New Year's Eve fireworks display. The Dubai Media Office said 16 people suffered mostly minor injuries during the fire whose cause is not yet known.
There was doubt as to whether the fireworks display planned for the nearby Burj Khalifa, the world's tallest building, would go off at midnight but they did to the delight of the thousands present.
Officials said the fire was brought under control after it broke out at around at 5.30pm GMT on New Year's Eve. It reportedly originated from the 20th floor of the 63-storey hotel.
Officials said 14 people suffered minor injuries, another person suffered a moderate injury and one person suffered a heart attack due to over-crowding and smoke from the fire with all those injured receiving "prompt medical attention".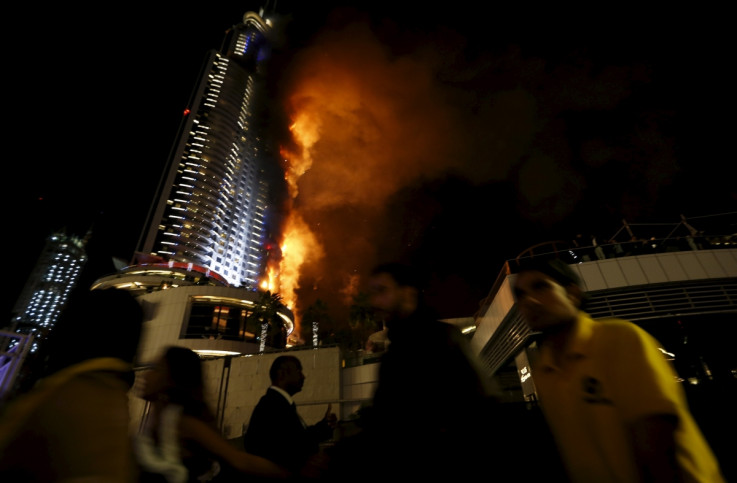 People flee the burning The Address Hotel in downtown Dubai
Reuters
The hotel, which was crowded with New Year's Eve revelers, was quickly evacuated. Anita Williams, an Irish singer who was a performer at the hotel when the fire started, told the BBC about the "stampede" evacuation. "We left everything. There was debris falling down. It [the fire] just shot up through the entire hotel," Williams said. "Everybody was screaming, everybody was running...I thought: 'This is a film'."
Despite the fire, officials announced that the night's fireworks display would continue as planned. Photos and videos of the burning building along with a colourful display from the Burj Khalifa poured in on Twitter and Instagram. Following the celebrations, Dubai Media Office tweeted, "Dubai's successful New Year's celebration is testimony to its steadfast commitment to its major projects and initiatives."
The official Dubai Media Office Twitter account reported that Dubai Holding was offering alternative accommodation for guests who had been evacuated.
The hashtag #NeedAnAddress also began trending in Dubai as residents near the hotel offered shelter for those who had been displayed.
The Dubai Department of Tourism and Commerce Marketing were also provided guest evacuated from the hotel with alternative hotel accommodations.