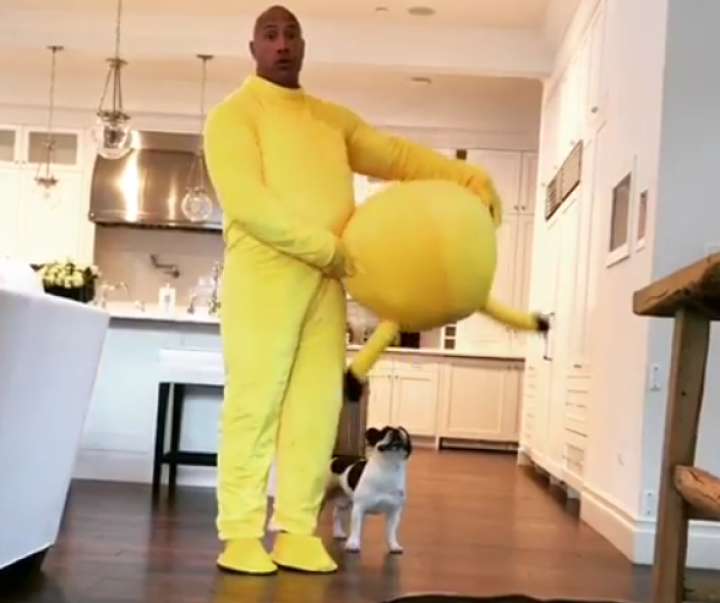 With muscles that look chiselled from stone, Dwayne Johnson is not the kind of man you want to mess around with. That is, unless you are his one-year-old daughter.
A day after showing off his physique post a workout session, The Fate Of The Furious actor shared an adorable video from Easter Sunday that he spent at home with partner Lauren Hashian, daughter Jasmine and their dog Hobbs (which also happens to be the name of his character in the Fast And Furious franchise). To celebrate the festival, Johnson wore a costume of Pikachu – a species of Pokemon – and spent two hours playing with 'Jazzy'.
"The first time Jasmine's favorite character, Pikachu came to visit her months ago she was only crawling," he explained alongside the Instagram video. "For Easter Sunday @laurenhashianofficial and I thought, Pikachu should make a special visit once again."
The Rock clearly did not keep in mind the energy levels of a toddler and had to find that out the hard way. "Pikachu didn't account for the fact that now Jazzy RUNS and for two hours straight she wants to play her new favorite game, 'I run away and you chase me Pikachu. And you're not allowed to take a break until I go night night'," he explained of the daddy-daughter time.
"At the end of the vid you can hear her yell, "Peekyu" because she can't say, Pikachu.
"I'm tired... today's my only day off... its 118 degrees in this costume and Hobbs keep trying to p**s on my leg," he joked, adding that despite the hot get-up he loved every minute of the time spent in it. "Bring it on. It's what daddy's do," he added, singing off with the hashtag #Rockachu.
Last year, Johnson wore the same costume on Halloween, and posted a video of him with his then 10-month-old daughter. "What Pikachu didn't know was that Jazzy would start crying when he stopped dancing and demanded he continue to shake his tail with a loud 'EH!'. So, Pikachu danced over.. and over.. and over.. and over... and over.. again. By the time I dropped my 197th JuJu, the heat of this costume was kickin' my ass," he wrote alongside the Instagram post.
The 44-year-old actor seems to have had a great Easter weekend, both at home and work. His latest film Fate Of The Furious released in the US on 14 April and has already topped the global box office.