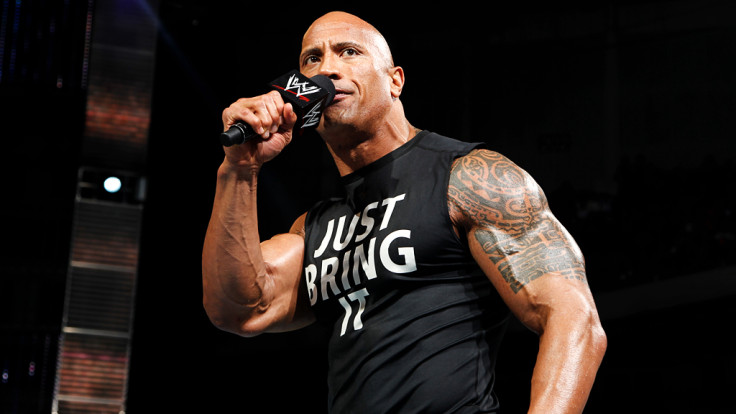 Dwayne "The Rock" Johnson took to social media on Friday (16 December) and shared a sweet video where he wished his daughter Jasmine a very happy birthday. The one-year-old is the Baywatch actor's first child with girlfriend Lauren Hashian. The wrestler-turned-actor also shares a 15-year-old daughter Simone with ex-wife Dany Garcia.
In the video shared on Instagram, Johnson can be seen gushing over his little girl's reaction as he sings happy birthday to her. Jasmine, who was dressed in a bright pink top, started clapping as her father began to sing.
"She's already clapping," the Moana star gushed between the song. "Yay! Clappy, claps! Who's the best daddy in the world?"
"Teaching 'em young to start applauding the moment daddy starts singing. Smart girl. Answering my egotistical questions is clearly a work in progress;). Happy 1st Birthday baby girl. Got you for life. #Aiga #PuaMana, Johnson captioned the post.
In April, when his daughter was four months old, Johnson had penned an emotional message on the photo sharing app.
"I'm always asked – What inspires YOU? My answer's easy and honest... What inspires me the most is always waitin' for me to walk thru my front door when I come home," he wrote.
"Happy 4 month birthday Jasmine! One day you'll know just how happy, proud, lucky and blessed you, your sister and your mama make me. You'll also thank me one day for your toughness and your mama's everything else. #HappyBirthdayJas #DaddysLilToughGirl #GratefulMan #Ohana4L," the actor added.
Soon after the birth of Jasmine, Johnson shared the first photo of his daughter on Instagram.
"Kinda crazy but in this cool and powerful skin to skin bonding moment with my newborn baby Jasmine, I had just one wish I asked the universe... Give me the strength to be a better man today than I was yesterday," he wrote in the caption.
"If I can accomplish that, then I'd have a good shot at being a great father," Johnson wrote. "To all you young men out there who will be fathers one day, the goal of 'being better' will never steer you wrong. Trust me," he added.