EastEnders producers were not lying when they promised viewers would be in for plenty of twists and turns over the Christmas period. The BBC One soap delivered on the drama with a shock death, a premature birth and the return of some familiar faces among the events that took place as the Walford residents prepared to tuck into their turkey.
In typical 'Enders tradition, not a single family on Albert Square enjoyed a happy Christmas Day. If the New Year's trailer is anything to go by, 2016 will hardly be a happy occasion. So what's in store for the doomed Walford ones as New Year's Eve approaches?
Fatboy death
Viewers were heartbroken when it became clear that Fatboy had died after getting caught in the crossfire between Ronnie and Vincent. In a horrible case of mistaken identity, Ronnie had hired a hitman to take out Vincent but they ended up putting Fatboy in the boot of a car at the Arches, before driving to the scrap yard where the vehicle was crushed. Vincent rushed to the scene but was too late to stop the vehicle from being destroyed.
Fatboy's fate was confirmed when Vincent was seen clutching the DJ's treasured "F" necklace. In a move to protect Ronnie from finding out the truth, he told her she had crushed an empty car before lying to Fatboy's best friend Dot Branning, telling the pensioner that he had landed a DJ gig in Austria. Although with Vincent crumbling as a result of his lies, how long until the truth about Fatboy is revealed?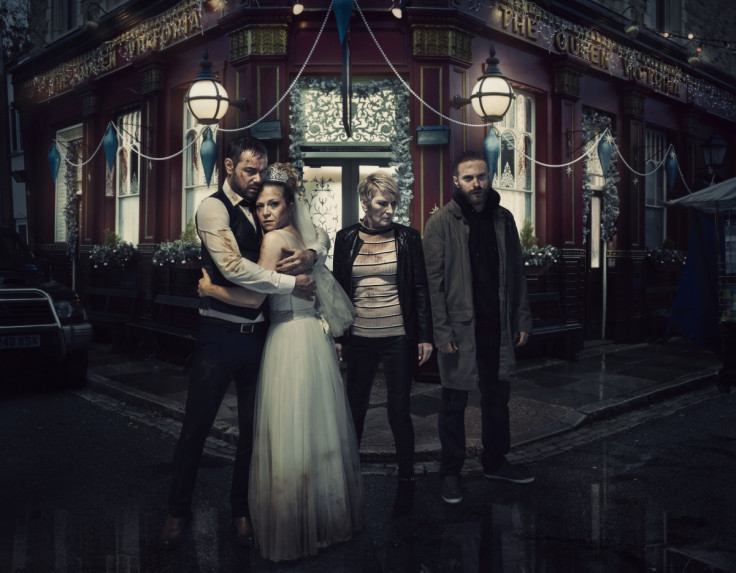 Bobby and Denny
The bulk of the Christmas Day action surrounded young Bobby and Denny, who had taken their bikes out for a race. However, the innocent fun went awry when Bobby led Sharon's son to the exact same spot where Lucy's body was found in Walford Common. The young lads got into a scrap, resulting in Bobby temporarily knocking Denny out. He eventually came to but a drunken Phil, who had gone looking for him with Ian, lost control of the car and crashed, sending Denny flying out of the vehicle.
The fallout from the accident left Denny in critical condition with the possibility of suffering brain damage while Ian took the blame, claiming he was driving the car on the condition Phil persuade Sharon not to tell the police that Bobby really killed his sister Lucy.
The Carters
Dean was furious with Shirley for spending Christmas Day with Mick at the Queen Vic but his day only got worse when his fiancee Roxy also abandoned him to help her sister Ronnie. Unable to control his anger, Dean chucked a dish at the wall, with the shards hitting Roxy in the face. The hairdresser managed to persuade her to stay once but when Roxy tried to leave again, he pinned her down on the bed, appearing as though he was going to rape her.
Watch EastEnders' New Year's trailer:
However, after hearing Roxy's screams, Dean's horrified mother Shirley walked in just in time to save Roxy. Will she finally admit that her son raped Linda? The ongoing saga looks set to come to a climax on New Year's Day as Mick prepares to marry Linda. Teasers show the estranged brothers plunging into water and getting into a tussle. Shirley, who also jumps in, appears to be saved from drowning but will Dean survive?
Kat and Alfie
Kat Slater made a surprise return to the Square, several months after winning the lottery and starting a new life in Spain, but without her husband Alfie and their three children. When Alfie finally arrives later, he demands to know why his wife just upped and left the family abroad but he also still harbouring a secret of his own, confessing to Phil that he could have a brain tumour and is yet to undergo tests.
The drama will not end for the Slaters any time soon as Kat's father Charlie dies in the New Year, Stacey struggles to cope with her mental illness after giving birth to son Arthur and Kat is also set to learn that she has a son, who is twin brother to her daughter Zoe.
EastEnders will air two 30 minute episodes on New Year's Day (1 January 2016) on BBC One.