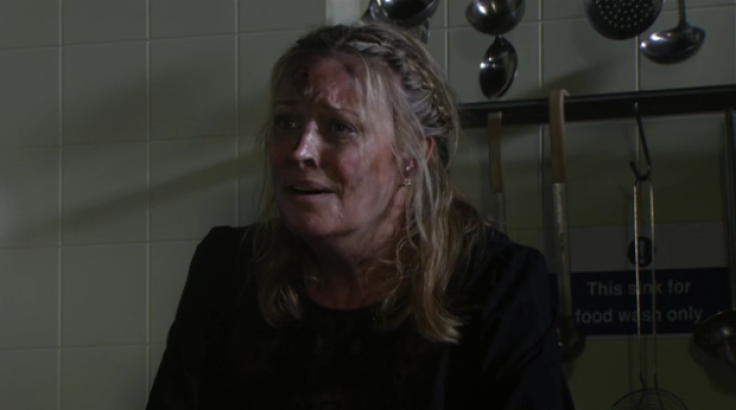 Someone will die on EastEnders tonight (8 September) as Max Branning goes to extreme lengths to keep his secrets under wraps.
Steven Beale (Aaron Sidwell) is a huge risk to keep alive and Max (Jake Wood) is fully aware that he could tell the truth at any time. But will Max put his nefarious past behind him or become the murderer that he once was and kill off one of Ian's children?
It wouldn't come as a surprise seeing as Max has shown his evil streak over the past week, especially when it comes to killing Beale. He plotted Jane's (Laurie Brett) demise last night as she presumably perished in the flames before the inferno closed in, letting the viewing audience believe she was doomed.
Even better, he's played with the Beales like puppets, convincing Jane's stepson Steven that she wanted rid of him, leading him to torch his dad Ian's restaurant with his injured wife trapped inside.
Manipulative Max has has proved that he will do pretty much anything to eliminate his enemies. He had his own reasons for harming Jane as part of his revenge plot for being wrongfully jailed for Lucy Beale's murder, while Steven was furious that Jane had found out he was lying about his brain tumour.
Viewers of the BBC1 soap reacted in a big way to Thursday night's antics, with one person tweeting: "Max Branning needs a punch #EastEnders".
Another said: "ah max branning pisses me right off".
But Max's nasty ways haven't stopped him from being a small screen heartthrob, with many female fans claiming that they have the hots for him. Another tweeted: "Max Branning is still my guy man don't care What he's doing. #EastEnders".
Someone else added: "I'm not sure why I fancy max branning but I do".
Elsewhere in the soap, Fi Browning (Lisa Faulkner) is not all that she seems. After Mick Carter (Danny Dyer) took a drunk Fi back to her lavish and modern home, telling her he understood that she had a bad week with the anniversary of her mother's suicide as she sobered up, she told him that her dad was dead.
But after Mick had left after being informed that Johnny had been shot, an emotional Fi made a phone call and spoke to her dad – so it turns out that he is very much alive. Could it be a character we knew from the past? Only time will tell.
EastEnders continues tonight at 8pm on BBC1.