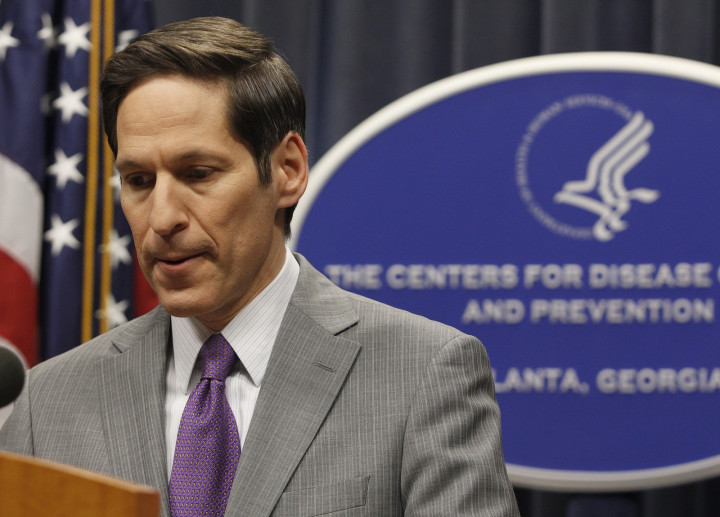 US federal health officials have revamped guidelines and called for voluntary home quarantine and daily monitoring for doctors and nurses returning home after treating Ebola patients in West Africa.
The guidelines are not mandatory and can be amended by the individual states, reports Reuters.
Responding to criticism over the mandatory quarantine imposed by the states of New Jersey and New York, Thomas Frieden, director of the US Centers for Disease Control and Prevention (CDC), warned against turning returning doctors and nurses into pariahs.
The new CDC guidelines spell out four risk categories with most health care workers returning from West Africa's Ebola hot zone considered to be at "some risk" for infection, while those tending to Ebola patients at US facilities would be seen as "low but non-zero" risk.
Health experts have taken trouble to assure the public that Ebola is not highly contagious and that the only people at high risk are health care workers who suffer a needle stick while caring for an Ebola patient or who tend to a patient without protective gear.
New York and New Jersey have gone ahead and imposed mandatory quarantines on returning doctors and nurses due to fears of the virus spreading in the US.
The move has been denounced as scientifically unjustified and an obstacle to fighting the disease at its source in West Africa.
UN Secretary-General Ban Ki-moon criticised the quarantines, saying these create difficulties for medical workers risking their lives in the battle against the deadly disease.
"Those who develop infections should be supported, not stigmatised."
UN and White House concern
The volunteer groups, the UN and the White House have voiced their concern against the forced quarantine. Even the US ambassador to the UN, Samantha Power, who is on a goodwill visit to Ebola-hit Guinea, has said that the forced quarantine was not well thought out.
The health workers should be treated as heroes when they return, she told NBC News. Power, whose visit is aimed at drumming up international support, hopes her visit will serve to remove some of the baseless fears about the disease.
The US military has begun to isolate troops returning from their mission. Dozens more will be isolated in the coming days as they rotate out of West Africa, where the military has been building infrastructure to help health authorities treat Ebola victims, the Pentagon said.
Kaci Hickox, a US nurse who worked in West Africa with Ebola patients, was released after being quarantined through the weekend in an isolation tent at a New Jersey hospital despite being tested negative.
The nurse had threatened to sue the state for curtailing her rights.