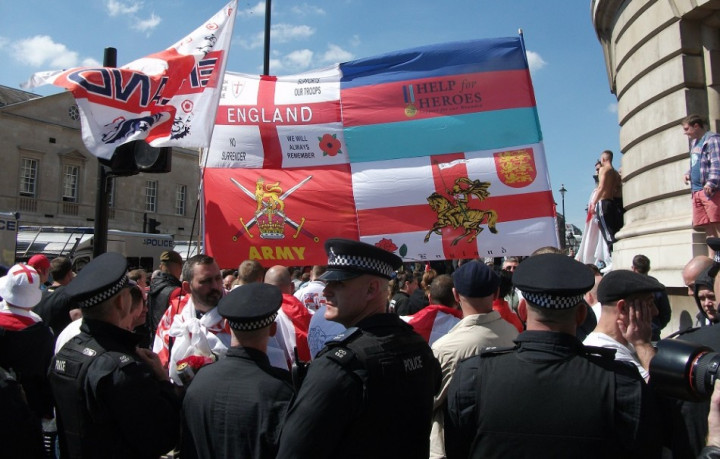 Losing one of its leaders was unfortunate for the EDL, but losing two at once looks careless - so what is next for Britain's most controversial protest movement?
Tommy Robinson and Kevin Carroll rocked the English Defence League by dramatically quitting their posts at the same time this week.
With them gone, who will step up - or stoop down - to lead a group accused of dividing communities and whipping up hate?
Robinson and Carroll sensationally called on followers to join them by rejecting the street marches which are the group's trademark.
This was an unlikely about-face which some EDL supporters have struggled to come to terms with, judging by the response on social media. Meanwhile, critics in sections of the media dismissed the pair's recantations as simply disingenuous nonsense.
It is unknown how many EDL followers will heed Robinson's plea and stay away from a planned rally in Bradford. But the early indication is that there most certainly shall be life for the EDL after Tommy Robinson.
According to estimates given to IBTimes UK by members, more than 1,000 are expected to turn out.
But who will deliver the rabble-rousing leader's speechs Robinson did at countless noisy demonstrations, where violence and disorder were regular occurrences?
An EDL supporter who was close to Robinson told IBTimes UK he may have been the group's first and final leader.
It is understood that it is possible Robinson's former lieutenants will ditch altogether the position of leader.
The leadership issue will be high up the agenda at a meeting of the group's Regional Organisers on October 26 to be held in Leicester or Birmingham.
"There's going to be a meeting of the regional organisers where they will discuss the way to proceed forward. It's possible we'll end up with a spokesperson instead of a leader, " IBTimes UK was told.
That would see the EDL become even more fragmented than it already is, with several voices speaking out simultaneously without a single 'first among equals' like Robinson.
With no unifying figure, it is possible that policing the EDL would become more difficult as the group grows more divergent.
Robinson spoke at the press conference of his position coming under threat "from rogue elements" with "nazi" views. He purged the plotters then, but now would be an opportune time for them to come back.
"They are still around as a splinter group, but they are not in the English Defence League now. They certainly have not got the support of the regional organisers," IBTimes UK was told.
The dust is still setttling on this week's sensational events, but it looks like the end of Robinson may not be the final nail in the coffin of the English Defence League.
READ MORE:
EDL's Tommy Robinson: 'English Defence League Now Part of the Problem' [VIDEO]
EDL's Tommy Robinson 'Must End Islamophobia' After Quitting Far-Right Group, Says Hope Not Hate
EDL's Tommy Robinson 'Will Definitely Form New Group' After Quitting
EDL's Tommy Robinson Quits over 'Dangerous Far-Right Extremists'