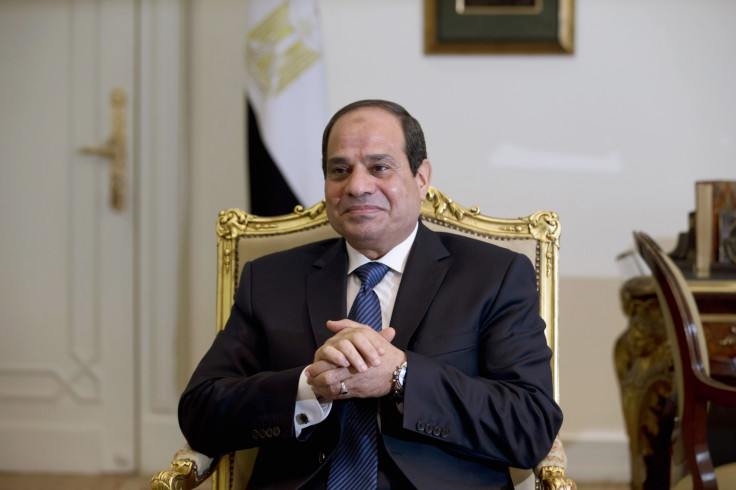 Egyptian President Abdel Fattah el-Sisi, who has a penchant for grandiose statements, claimed in a speech on 25 February that he would sell himself if he could, to aid the Egyptian economy. One irreverent citizen decided to take him at his word and promptly put the military strongman up for sale on Ebay.
The Egyptian leader was described as "slightly used" by his "previous owners (Gulf Monarchs)", according to a translation by Foreign Policy, and photo of the former field marshal smiling was posted on the bidding website.
Sisi fetched as much as $100,000 (£72,000) in bids before Ebay took the page down. The seller's name 'dr_motown' was itself a dig at the president and his previous claims he was a doctor, anointed by God, to advise "world leaders, politicians ... and the greatest philosophers".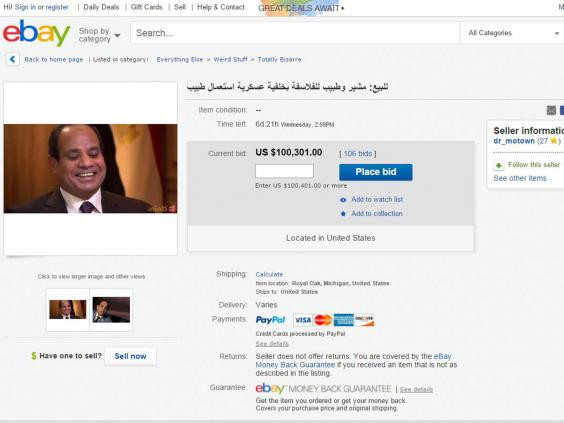 "Hey world, we decided to sell the infamous Egyptian Field Marshal and military coup leader Mr Abdel Fatah el-Sisi on eBay to bail out the Egyptian economy so you don't have to," dr_motown wrote in Sisi's description.
Sisi and his autocratic police state have been lampooned with increasing frequency by Egyptians despite widespread human rights abuses. On the fifth anniversary of the country's 25 January revolution a comedian and journalist handed condoms out to unwitting security forces. Videos they recorded went viral on Facebook.
The Egyptian government has come under mounting pressure to bolster the country's ailing economy. The Middle East's most populous nation has been rocked by an Islamic State (Isis/Daesh) insurgency in Sinai and dwindling tourism revenues following the ouster of Muslim Brotherhood President Mohammed Morsi in 2013.