EgyptAir officials have retracted their earlier announcement that the wreckage of missing flight MS804 had been found near the Greek island of Karpathos. Greece's lead air accident investigator, Athanasios Binis, told reporters that debris – including life-jackets – which had been found earlier did not belong to the Airbus A320.
"We stand corrected on finding the wreckage because what we identified is not a part of our plane," EgyptAir Vice Chairman Ahmed Adel told CNN. "So the search and rescue is still going on." Adel said EgyptAir is not involved in the search and is receiving its information from Greek authorities and the Egyptian military, CNN reported.
The plane – which disappeared from the radar about 20 minutes before it was set to land at Cairo International Airport on Thursday (19 May) – reportedly made two sharp turns and dropped more than 20,000ft before plunging into the sea, Greece's defence minister, Panos Kammeno, said according to the BBC.
The plane first made a 90-degree turn left, dropped from 37,000ft to 15,000ft before swerving 360 degrees right.
Egyptian officials said the aircraft was likely brought down by an act of terror rather than by a technical fault. "The possibility of having a terror attack is higher than the possibility of having a technical [problem]," Egypt's aviation minister, Sherif Fathy, told reporters. Egyptian Prime Minister Sherif Ismail, French President François Holland and a White House spokesperson noted that terrorism could not be ruled out. However, no terrorist group has claimed responsibility for the plane crash.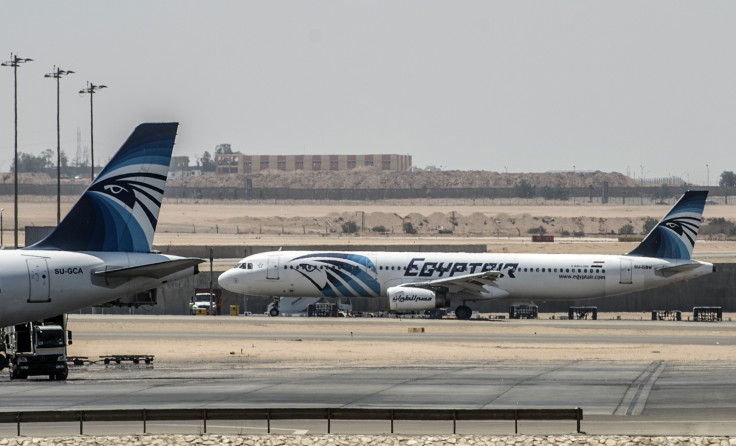 A search operation led by Egyptian, Greek, British and French military units is underway near Karpathos. The BBC also reports that Egyptian President, Abdel Fattah al-Sisi, ordered Egypt's civil aviation ministry, navy, air force and army-run search and rescue centre to take any necessary measures to find the plane's wreckage.
Al-Sisi's office said the president also ordered aviation officials to launch an investigation into the cause of the disappearance. French air accident investigation bureau sent three investigators and a technical adviser from Airbus to join the Egyptian investigation.
EgyptAir Flight MS804 carried 56 passengers and 10 crew members, including two cockpit crew, five cabin crew and three security personnel. Among the reported passengers on board were two babies and one child.
There were 30 Egyptians, 15 French, two Iraqis and one person each from the UK, Algeria, Belgium, Canada, Chad, Kuwait, Portugal, Saudi Arabia and Sudan among the passengers. In the early hours of 20 May, Australia's Foreign Minister Julie Bishop confirmed there was an Australian-UK dual national on board.
"I regretfully confirm that one of the passengers on Egypt Air flight MS804, en route from Paris to Cairo was an Australian-UK dual national," said Bishop. "We are working closely with UK authorities, which are taking the lead in the provision of consular assistance to the man's family.
"The government is working with our partners and allies to understand the reasons behind the flight's disappearance and presumed crash. It is too early to speculate on the cause of this incident.
"My thoughts are with the families and friends of those affected.
"Out of respect for the man's family, the government will not provide more details at this stage," she said.
The plane was flying from Paris to Cairo when it disappeared at 2.29am Cairo time. Greek aviation officials said they spoke to the pilot when the plane entered Greek airspace, but were unable to reach him again at 2.27am Cairo time. It dropped from the radar two minutes later.