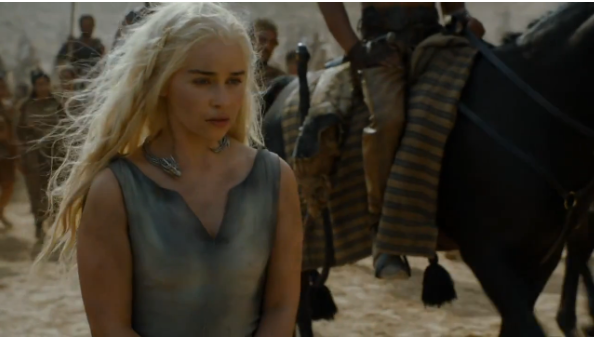 Who better to demand equal full frontal nude scenes for men and women in Game of Thrones than Daenerys Targaryen, who has probably shown more than anyone more often?
In a giggly appearance on Stephen Colbert's The Late Show, Emilia Clarke, who plays Daenerys, said her gender "junk equality" prayers are beginning to be answered on the popular fantasy series.
In a word, she's talking about the penis, which has been much shielded in the series, though surrounded by bounteous female undress amid controversy over unequal nudity that's not fair to actors — nor to viewers.
But at long last a "new character" has been introduced, "the penis", announced Colbert, adding: "About damn time." It made an appearance in the latest episode when an actor playing King Joffrey checked for warts (not the sexiest presentation, several critics complained).
"You know I did it, so why can't the boys do it?" Clarke asked. "I think they heard me."
Clarke's character recently emerged from a burning building unscathed, and yet all of her clothes, so predictably, had been burned off.
Clarke explained to Colbert why she didn't use a body double for the scene. "I did it before in season one and people like to talk about it," she explained. "So I just wanted to come out and do an empowered scene, which wasn't sexual. It was naked, but it was strong."