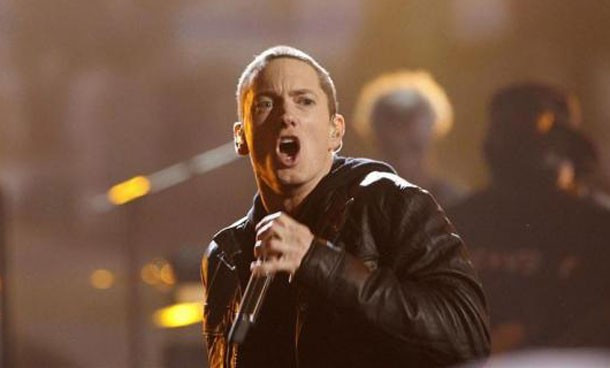 It is no secret that hip hop star Eminem enjoys ridiculing celebrities with outrageous lyrics but eyebrows have been raised after he mocked transgender woman Caitlyn Jenner in a freestyle rap.
The Lose Yourself rapper visited US radio show Sway In The Morning, where he delivered a six-minute freestyle taking aim at hot topics in pop culture.
Referencing Jenner's transition into a woman, Eminem, 42, rapped: "I invented p***k, and that's a true statement, I see the b***h in you, Caitlyn/Keep the pistol tucked like Bruce Jenner's d**k."
He added: "No disrespect though, not at all, no pun intended, that took a lot of balls."
Realising that his lyrics may have offended listeners, the Rap God hitmaker defended his lyrics, telling the host: "The rhyme by the way, it's all in fun. I just say s**t to say it. I don't even know if there's anything.
"It's very rarely, very rarely personal. Put it this way, if it was ever personal, someone would know it."
Watch Eminem's freestyle on Sway In The Morning:
Also in Eminem's firing line was comedian Bill Cosby, who has been accused of sexually assaulting, harassing and drugging multiple women.
The hip hop star rapped: "I made monopoly off misogyny/Sodomy, how many chocolatey Jell-o pops can he possibly lace, walking atrocity/No wonder you scoff at me, it's obvious I'm as off-putting as Bill Cosby is."
Touching on politics and the Donald Trump scandal, Slim Shady said: "I'm f****d worse than Donald Trump/On Lexapro in Mexico across from a Texaco in a McDonald's drunk."
He also said of presidential candidate Hillary Clinton: "Hillary, I promise to wipe my servers clean if you face subpoenas."
During the rap, the Grammy-winner admitted to having crushes on Angelina Jolie, Rita Ora, Serena Williams, Christina Aguilera and Scarlett Johansson to name a few.