Emirates Airlines, one of the several foreign carriers affected by the Trump administration's restriction on electronics on US-bound flights, has responded with a new service to help passengers affected by the ban. The Dubai-based airline company is offering a free "laptop and tablet handling service" for US flights that allows passengers to use their devices until just before boarding.
Users must then declare and hand over their laptops, tablets and banned devices to security staff at the gate before boarding the flight. The devices will be packed into boxes, loaded into the aircraft hold and returned to the traveler once they arrive in the US.
"Our aim is to ensure compliance with the new rules, while minimising disruption to passenger flow and impact on customer experience," Emirates Airline president Sir Tim Clark said in a statement.
"Our new complimentary service enables passengers, particularly those flying for business, to have the flexibility to use their devices until the last possible moment. Once on board they can still stay connected on their mobile phones."
Clark said 90% of Emirates' passengers on flights to the US connect to the in-flight Wi-Fi using their smartphones while just 6% connect via their laptops and 4% via tablets.
Emirates encouraged passengers beginning their journeys in Dubai to pack their electronic devices into their check-in luggage to avoid delays. All carry-ons will be thoroughly searched by security prior to boarding direct flights to the US, Emirates said.
Earlier this week, the US Department of Homeland Security announced a new security directive banning all personal electronics larger than a smartphone into the cabin on flights to the US.
Set to go into effect on 25 March, the indefinite ban impacts US-bound flights from 10 airports in the Middle East including Jordan, Egypt, Turkey, Saudi Arabia, Kuwait, Qatar, Morocco and the United Arab Emirates. The nine carriers affected by the policy include Etihad Airways, Qatar Airways, Turkish Airlines and Royal Jordanian among others.
The UK also announced a similar ban shortly after which impacts passengers flying from Jordan, Saudi Arabia, Turkey, Lebanon, Egypt and Tunisia.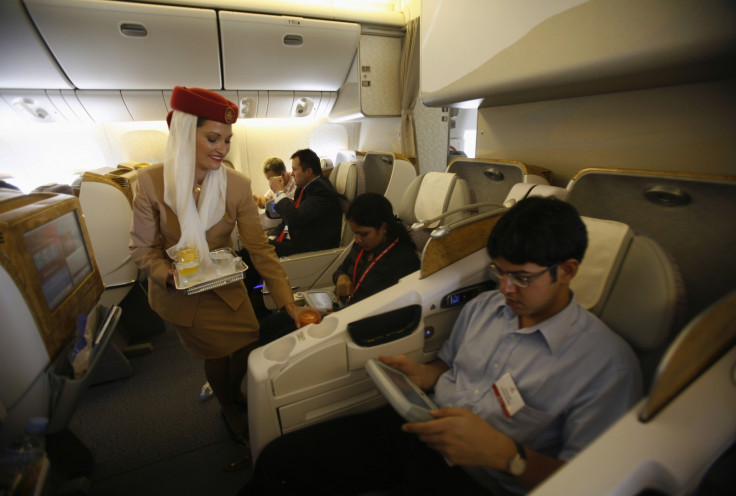 Clark said earlier that the new order would be "hugely disruptive" for Emirates. He also questioned why certain airports and carriers were affected by the ban as opposed to others.
"After all, if these devices are viewed by the United States and the United Kingdom as potential instruments of threat, they can be loaded on any airplane anywhere," he told CNNMoney. "To suggest that Dubai doesn't have the equal capabilities or better than the Europeans, the Americans and the Asians in terms of search, interdiction and surveillance, I find amazing. I know this airport."
Emirates also released a new ad this week poking fun at the electronics ban. Titled "Let us Entertain You," the ad features Friends star Jennifer Aniston playing games and watching movies using the backseat in-flight entertainment system on an Emirates flight.
"Who needs tablets and laptops anyway?" the message at the beginning of the ad reads.
Other carriers including Jordanian Airlines and Etihad have also made light of the new rules with similar clap-backs.
Meanwhile, industry analysts and security experts have criticised the execution of the ban, questioning its ability to prevent a terrorist attack and make flying safer.
"It's difficult to make sense of this as a security measure, particularly at a time when many people question the veracity of government orders, but other explanations are either unsatisfying or damning," security technologist Bruce Schneier wrote on CNN. "This current restriction implies some specific intelligence of a laptop-based plot and a temporary ban to address it. However, if that's the case, why only certain non-US carriers? And why only certain airports?
"Of course, the details are all classified, which leaves all of us security experts scratching our heads. On the face of it, the ban makes little sense."