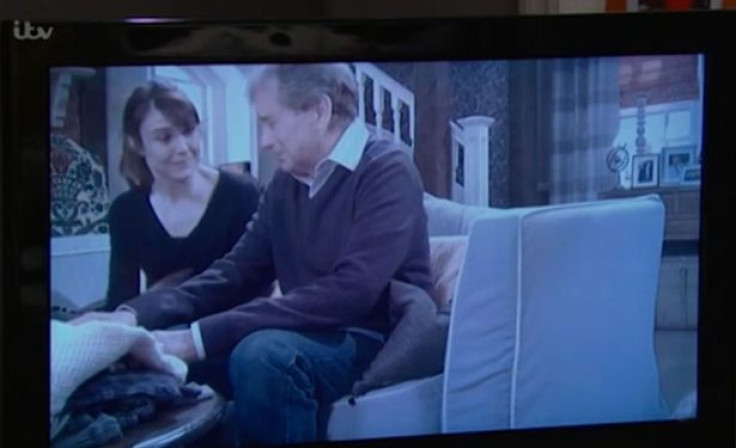 Emmerdale viewers have been waiting for Emma Barton's murder of James to be exposed over the past few months, and it looks as though they were finally granted that wish.
The mentally unstable mother pushed her new husband off a bridge on their wedding day, letting him fall to his death and cause a major car crash witnessed by Ashley Thomas.
Since Ashley had been suffering with dementia in the months before he died last month, evil Emma tried to confuse him to try and make him forget what actually happened in a bid to stop her sons from discovering the truth and being sent to prison.
Emma forgot that she had been filmed in one of Ashley's moving home videos, which Arthur viewed in shock as she was caught on tape trying to distort his memory, leading to the first steps of Emma being exposed in the storyline.
On Ashley's discovery, one viewer tweeted: "I just hope he tells Laurel and Doug that he saw Emma Barton in that final clip #evil" as another wrote: "Arthur caught a glimpse of the video! Emma's days will soon be numbered. #Emmerdale".
It appears as though it's only a matter of time before Arthur lets the cat out of the bag on Emma's not-so-secret crime.
The new development comes as Emma is reportedly going to kill Moira Barton as part of her revenge plan. Emma has always had it in for the village farmer after she slept with her husband James and fathered a child with him – Adam Barton – after having an ephemeral affair last year.
Things are now spiralling out of control in the 'dales after Moira forced Emma's son Ross to sign over his share of Butlers Farm to her, no doubt angering the beast.
Ross was caught red-handed stealing cattle from the land to make some quick cash, and Moira later blackmailed him into signing over his share, otherwise she'd report him to the police.
Viewers are now concerned for Moira's life as Emma had no qualms with murdering her husband. One tweeted: "If Emma Kills Moira Then I'm Done With #Emmerdale" as another wrote: "Emma is out for revenge against Moira what could go wrong #Emmerdale."
Emmerdale's Twitter account even tweeted: "Emma is her planning her revenge on Moira. Be afraid. Be very afraid. #Emmerdale."
Emmerdale continues tonight (5 May) at 7pm on ITV.