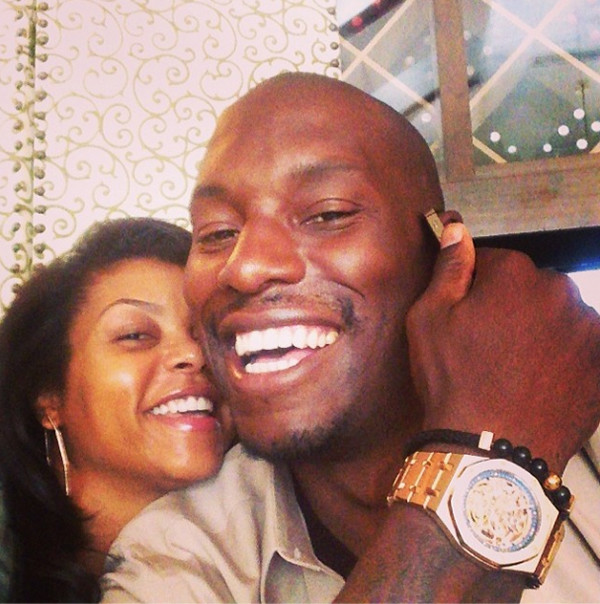 Almost 15 years after their on screen chemistry in John Singleton's 2001 cult classic Baby Boy captured the hearts of millions of fans, it looks like Tyrese Gibson and Taraji P Henson could soon be reuniting.
The 36-year-old Fast and Furious actor has hinted that he will be making an appearance on the season finale of Fox original series, Empire. In the hit show Henson plays Cookie Lyon, the outrageous ex-con, ex-wife of a music mogul, Lucious Lyon (Terrence Howard).
Taking to Instagram, Gibson reprised his beloved character Jody to call out 'Yvette' on Instagram for cheating on him.
"I'm not cool with all these dudes feeling up on Yvette and it's on TV? I heard they call her Cookie now? The homies are telling me I gotta get my b-tch back... I guess I gotta change my name too and do some show called #Empire? Cause that' where Yvette is now under her alias #Cookie? Damn.... see you soon —— Jody"
Derek Luke, who plays Malcom, the security guard seducing Cookie Lyon, quickly fired back claiming there was nothing wrong with some healthy competition.
"From one talented brother to the next @Tyrese yo know how us darkskin brothers do. Jody couldn't keep his hands off Yvette but now Malcolm can't keep his hands out the cookie jar. #CookieMonster #teammalcolm #Empire"
Teasing an appearance Gibson said: "Sometimes hands get caught in the cookie jar......Understand this playboy...I OWN the cookie jar #NoTeamDarkSkin....#JustME....See you soon"
Danny Strong and Lee Daniels are the creators of Empire, a musical drama that centres around Lyon, a former drug dealer turned hip hop mogul and his family as they as they fight for control of the company, Empire Entertainment.
If Gibson does make a cameo will be joining the likes of Estelle, Naomi Campbell, Mary J. Blige, Gladys Knight, and Anthony Hamilton, who have also appeared in the hit show.