Ethiopian security forces have released some 2,000 detainees who were arrested on suspicion of taking part in violent activities during anti-government protests. Defence minister Siraj Fegessa said the people were released after receiving education and counselling services.
The minister, who did not disclose the number of those still detained, added more than 1,500 illegal weapons were retrieved, according to state-run Fana broadcasting Corporate (FBC).
He also said authorities had managed to reduce the threat posed by people who engaged in violent activities following the establishment of the Command Post, founded to oversee the implementation of a state of emergency declared earlier this month.
The emergency was declared following anti-government protests in the Oromia and Amhara regions.
Members of the opposition, activists and rights groups repeatedly claimed the response to the protests, labelled as the biggest anti-government unrest Ethiopia has witnessed in recent history, have resulted in the death of more than 500 people since November 2015, a figure the government later confirmed.
Critics of the state of emergency – which restricts, among other things, freedom of movement and the use of social media – claimed it will be used to quell the ongoing unrest.
The government, which often blamed "outside forces" including from Eritrea and Egypt for the protests, said it will use the new measures to coordinate security forces against "anti-peace elements" that aim to destabilise the country.
In a statement sent to IBTimes UK, the Ethiopian embassy in London reiterated the six-month-long state emergency aims to restore peace and order in the nation.
"There has been over six months of unrest that has threatened the nation's stability. In addition to this, there have been attacks on the people of the country, against vital infrastructure, businesses, health and education centres, as well as government offices and courts, many of which have been destroyed," read the statement.
" The EPRDF [ruling political coalition Ethiopian People's Revolutionary Democratic Front]-led democratic and developmental state is self-correcting and committed to resolving grievances and demands raised by people."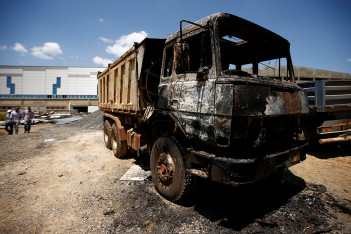 Reasons behind protests
Protests in Amhara and Oromia were not driven by the same causes. In Amhara, people demonstrated calling for their lands to be administered by the Amhara region, instead of the Tigray state.
Oromo people – Ethiopia's largest ethnic group – have often claimed they are disenfranchised and discriminated against by the government. The latest spate of protests was sparked in November 2015 by a government draft "Addis Ababa master plan", which aimed to expand the boundaries of the capital.
Protesters argued the plan would lead to the forced evictions of Oromo farmers and would undermine the survival of the Oromo culture and language. The Ethiopian government scrapped the plan, following increasing agitation.
However, protests continued, with people calling for self-rule, the liberation of political prisoners and the end of what they perceive to be a military regime in the region.