The Ethiopian government has reshuffled its cabinet in a move seen by some as a result of months of anti-government protests. The parliament approved the list of 21 ministers proposed by Prime Minister Hailemariam Desalegn.
Desalegn replaced some of his key allies, such as the minister of foreign affairs and finance. He said the appointments were based on people's skills rather than their political affiliations.
Some have claimed the reshuffle is part of measures the government said it would take to reduce grievances expressed by some ethnic groups. In October, Ethiopia declared a six-month-long state of emergency following unrest in Oromia and Amhara regions.
Members of the opposition, activists and rights groups repeatedly claimed the response to the protests, labelled as the biggest anti-government unrest Ethiopia has witnessed in recent history, have resulted in the death of more than 500 people since November 2015, a figure the government later confirmed.
Among other things, people demonstrated against perceived disenfranchisement and lack of inclusion in the political process as the government is dominated by the Tigray minority.
Two key posts were given to ethnic Oromos: Workneh Gebeyehu is the new foreign minister and Negeri Lencho the new information minister.
Following his appointment, Lencho, who is also the government's spokesperson, told news agency AFP: "So many challenges have been raised by the public. There has to be a change. This new cabinet is ready to respond and provide a better service with professionals from many directions."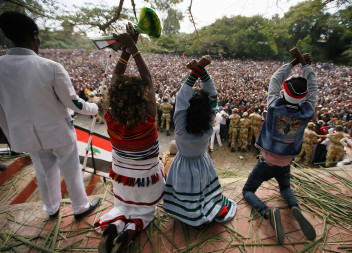 Reasons behind protests
Protests in Amhara and Oromia were not driven by the same causes. In Amhara, people demonstrated calling for their lands to be administered by the Amhara region, instead of the Tigray state.
Oromo people – Ethiopia's largest ethnic group – have often claimed they are disenfranchised and discriminated against by the government. The latest spate of protests was sparked in November 2015 by a government draft "Addis Ababa master plan", which aimed to expand the boundaries of the capital.
Protesters argued the plan would lead to the forced evictions of Oromo farmers and would undermine the survival of the Oromo culture and language. The Ethiopian government scrapped the plan, following increasing agitation.
However, protests continued, with people calling for self-rule, the liberation of political prisoners and the end of what they perceive to be a military regime in the region.