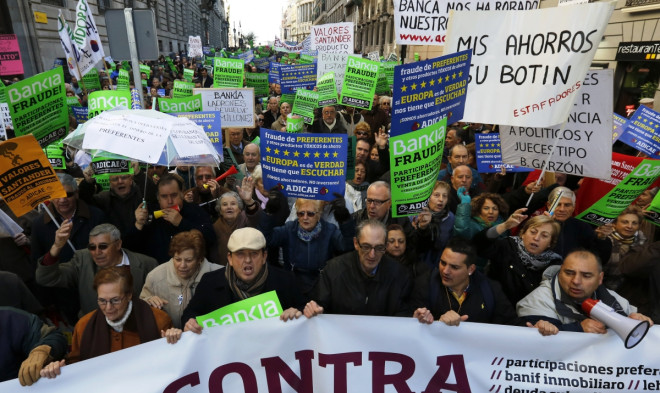 Europe's biggest banks slashed 80,000 jobs in 2013 as the global economic recovery remains slow and fragile.
According to Thomson Reuters data, which is based on 2013 financial statement calculations, banks across Europe axed headcount by another 3.5% as lenders need to shore up capital amid rising regulatory costs and dampened profits.
However, out of the 30 banks, Spain's financial sector bore the brunt of job cuts. Thousands of job losses has contributed to a quarter of the population remaining unemployed.
For example, Spain's Bankia cut 23% of its workforce while BBVA cut its headcount by 6,547.
Britain's Barclays, German lender Deutsche Bank, and Sweden's Handelsbanken were the only three to add jobs in 2013. However, the total equates to a meagre 770.
The jobs market across Europe significantly varies from country to country.
In the UK, Hays shares rocketed after the British recruitment giant revealed that its full year profits will be "at the top end of the range," thanks to a boost in UK employment.
Hays forecasts full year operating profit to be towards the top of the current range of market estimates of £141m (€171m, $237m).
"This has been another good quarter of growth for the Group as we continued to capitalise on improving conditions in many of our key markets, leading to an increase in our expectations for full year profits," said Alistair Cox, chief executive at Hays in a statement.
According to research from recruitment firm Astbury Marsden, 2,640 jobs were created in London in March 2014, up from 2,190 the year before.
However, the group warned that that the UK financial services sector has started to the curb the number of new jobs in the city.
"Hiring freezes at some of Europe's largest investment banks have helped interrupt the recent recovery in the city jobs market," said Jonathan Nicholson, managing director at Astbury Marsden.
"Despite the buoyant recruitment market in fund management and brokerages the overall job figures are being dragged down by the largest investment banks that have been hit hardest by regulatory intervention and, in particular, the new capital adequacy rules."
On 14 April, sources told IBTimes UK that Citi is planning to axe 200 to 300 jobs.