EVO 2017 reveals public vote for tournament's ninth game including Arms, Nidhogg and Windjammers
Super Street Fighter 2 Turbo, Ultimate Marvel vs Capcom 3, Mortal Kombat XL and Killer Instinct included.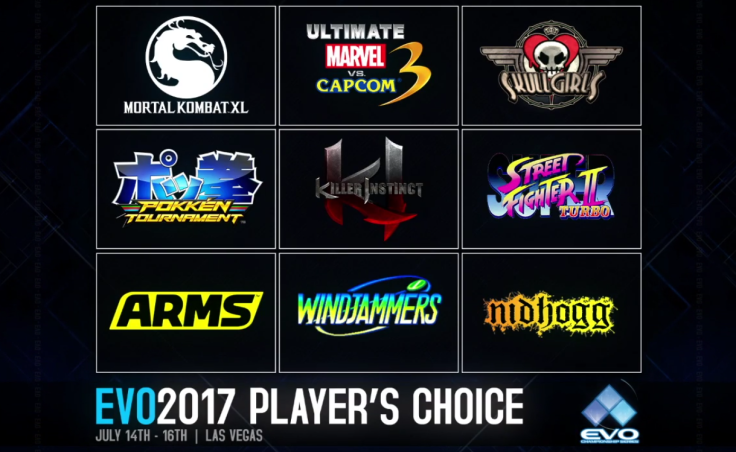 This year's Evolution Championship Series (EVO) will see fighting game pros from around the world compete to be world champion at nine fighting games. Eight of those games have been announced, with the ninth to be chosen by the public.
Street Fighter 5, Tekken 7, Super Smash Bros Wii U, Injustice 2, King of Fighters 14, Super Smash Bros Melee, BlazBlue: Central Fiction and Guilty Gear Xrd Rev 2 were announced on a live-stream last night (24 January) before the vote was announced.
Mortal Kombat X, Killer Instinct, Pokken Tournament and Ultimate Marvel vs Capcom 3 had all been dropped from last year's EVO line-up, but appear again on the public vote (Mortal Kombat XL replacing X).
They're joined by Skull Girls, Super Street Fighter 2 Turbo, Nidhogg, Windjammers and Arms.
PS4 indie sword-duelling game Nidhogg and Nintendo Switch first-party exclusive Arms are certainly big surprises, as is Windjammers – a Neo Geo game from 1994 that is (unexpectedly) getting the remaster treatment later this year.
It's a crying shame only one game can win.
Super Street Fighter 2 Turbo was one of the very first games to be contested at the very first Evo Championship in 2002. Its last appearance at the event was in 2010 when Darryl "Snake Eyez" Lewis won.
The vote will be won by whichever game raises the most amount of money for the Make-a-Wish Foundation (via Generosity.com) by 8 February with players able to donate for which ever game they want to champion.
Here are the links to each game's Generosity page.
EVO 2017 takes place 14-16 July 2017 in Las Vegas at the Mandalay Bay Events Center.
For all the latest video game news follow us on Twitter @IBTGamesUK.
© Copyright IBTimes 2023. All rights reserved.