After serving over a decade in detention, six former Guantanamo Bay inmates who were transferred to Uruguay remain hospitalized following a gruelling 12-hour flight, where they were kept handcuffed and blindfolded.
Uruguayan defense minister had earlier said that the men would be discharged "in a matter of hours", however despite their arrival for over two days since Sunday, the inmates continue to undergo medical examination at a military hospital, reported France24.
The inmates were taken in by Uruguay on "humanitarian grounds" as refugees, however authorities have revealed that the men will be kept under tight security after leaving for an undisclosed location in the interior of the country.
Cori Crider, the lawyer for one of the men has expressed her disappointment at the way the inmates were kept handcuffed and blindfolded throughout the more than 12-hour flight to Uruguay.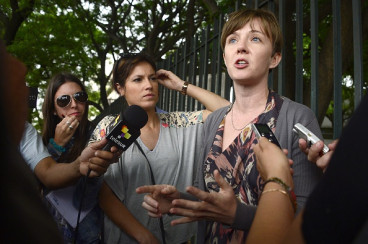 Crider who is in Uruguay following the transfer of the inmates said: "It upsets me as an American citizen, but I'm afraid they take people out of Guantanamo in a way that is almost as degrading as the way they take them in.
"They handcuff them, they still have the blindfolds on and the ear defenders on, and there's not really a proper seat, so right up until the last moment I'm afraid the attitude of the Defense Department is not that these people are cleared to be free."
Crider has said that some of the inmates might need "intensive care".
Another lawyer, Alka Pradhan, said her client needs a wheelchair following the "horrible treatment" in detention.
The inmates, include four Syrians, a Palestinian and a Tunisian, who were all detained as part of the US "War on Terror" in 2002 for alleged links to al-Qaeda, however none of them were charged or tried.
The news comes as the US has released the CIA torture report outlining the "enhanced interrogation techniques" used on detainees, including rectal feeding and confinement with insects, that brought no useful intelligence information.