The ex-girlfriend of convicted paedophile Adam Johnson has started a romance with another footballer who has a criminal record – Bolton Wanderers forward Gary Madine.
Former Sunderland winger Johnson was sentenced to six years behind bars after he was found guilty of grooming and sexually touching an underage girl, who was a supporter at the club.
Madine, 26, has been repeatedly arrested and convicted of assault.
He served an 18-month prison sentence in 2013 during his time as a Sheffield Wednesday striker for two separate offences, where he punched two men in a pub and nightclub respectively.
The player was released just five months into his sentence and returned to football, turning out for Carlisle, Coventry and Blackpool before signing for Bolton Wanderers in 2015.
Speaking out about his actions at the time of his release, Madine promised he would redeem himself following his flurry of rage.
"It was tough being in prison having to watch the Football League Show on TV, watching everyone scoring goals. I don't ever want to go back to that," he said.
"I let my ego get the better of me. Now I'm a changed man and I'm keeping my feet planted firmly on the floor.
"Maybe prison was a blessing in disguise, but I'm hoping it's all behind me now and I can come up a better person."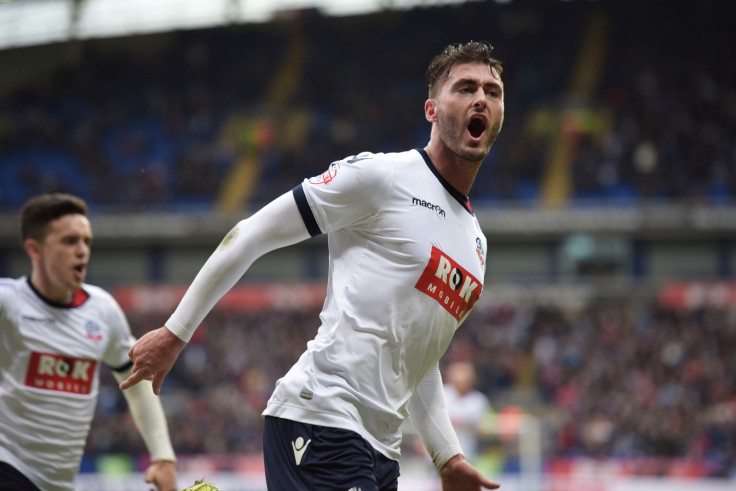 Madine has reaped controversy for violence dating back to November 2010, when he was forced to do 250 hours of unpaid work for attacking Carlisle United fan Brian Mounsey and ordered to pay £1,500 ($1,900) compensation to him.
However, Flounders has been reportedly been assured by Madine, who has allegedly been dating her since January, that his violent streak is now over now that he is a "changed man".
A source said: "It's still early days, but Stacey really likes Gary. They're getting to know each other and Adam is aware of their relationship.
"She knows all about Gary's past, but believes him when he says he's a changed man."