Social network giant Facebook has released its diversity report for 2016 revealing how minorities, including blacks, Hispanics and women in their US workforce made meagre progress compared to last year. The company blamed the challenges in diversifying its work place on lack of qualified recruits as the main problem.
The Menlo Park-headquartered company is considered among the toughest tech companies for women and minorities to be hired especially in non-support roles such as its core tech team or at managerial levels. The percentage of black and Hispanic workers in the core tech department has not change since last year. However, around 1% women were added to the company's tech-related workforce, taking their tally to 17%.
Overall, there are 4% Hispanics employed at the company, while 2% are African-American and 33% are women. "Appropriate representation in technology or any other industry will depend upon more people having the opportunity to gain necessary skills through the public education system. In 2015, seven states had fewer than 10 girls take the Advanced Placement Computer Science exam and no girls took the exam in three states. No Black people took the exam in nine states including Mississippi where about 50% of high school graduates are Black, and 18 states had fewer than 10 Hispanics take the exam with another five states having no Hispanic AP Computer Science (CS) test takers. This has to change," Facebook's head of diversity Maxine Williams said in a statement.
Although companies have time and again blamed the problem on finding skilled recruits, experts are of the opinion that the problem is deep-rooted in the hiring patterns at Silicon Valley. "There are a ton of opportunities to increase demographic representation in tech companies with the people that already exist in the workforce," Joelle Emerson, chief executive of Paradigm, a diversity consultancy told Wall Street Journal.
According to her there are far more black and Hispanic computer-science graduates compared to the mini-skew number among them that are offered jobs with tech firms in the US.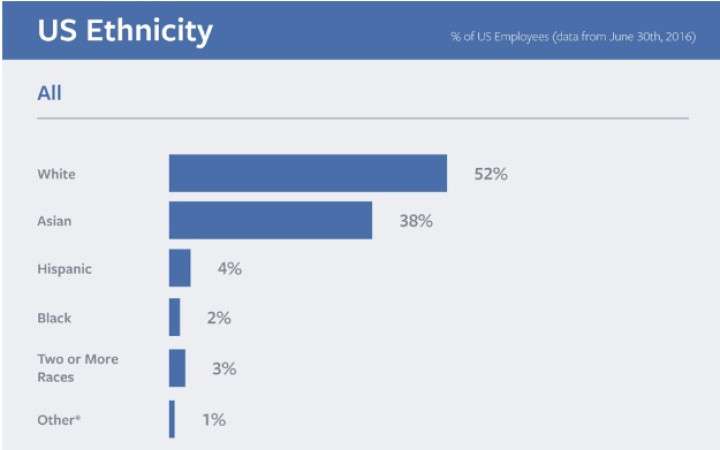 Nonetheless, in some positives for Facebook, the company noted that among the new senior leadership hired in the past 12 months, 9% were black, 5% were Hispanics and 29% were women. The social media giant also announced its LGBT data for the first time through a voluntary survey to which 61% responded, and 7% self-identified themselves as being lesbian, gay, bisexual, queer, transgender or asexual.
The news comes weeks after Google shared its diversity report which showed that the company it yet to make any progress when it came to increasing its own diversity statistics. A few months back, Cupertino-based Apple Inc shareholders had rejected a proposal that would have required the board of one of the world's largest companies to adopt an "accelerated recruitment policy" for minorities among company leaders to establish a more diverse leadership.