Fairfax sheriff releases graphic video of Natasha McKenna being tasered in jail before her death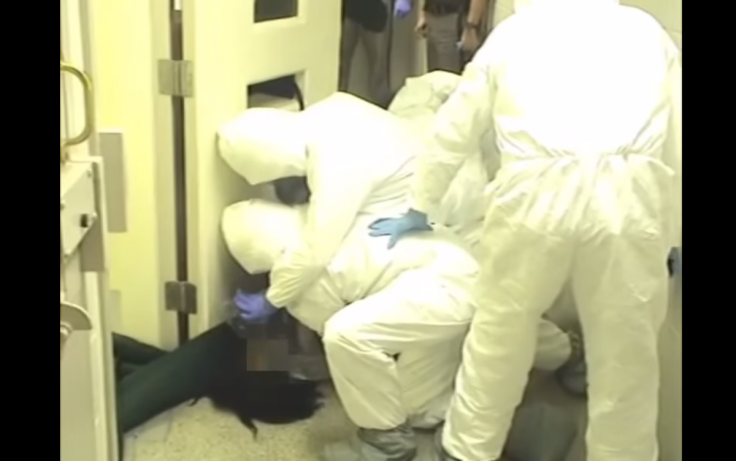 A Virginia sheriff released a video on 10 September which shows the long struggle between a naked, mentally ill inmate called Natasha McKenna and five deputies dressed in biohazard suits. In the video, McKenna is shocked four times with a Taser before losing consciousness.
Fairfax County Sheriff Stacey Kincaid released the 48-minute video just two days after the county's lead prosecutor announced he would not file charges against the officers. Thirty-seven-year-old McKenna's death several days after the struggle prompted a months-long criminal investigation, ABC News reported. The lead prosecutor declared her death a "tragic accident."
According to VICE News, a medical examiner ruled McKenna's death accidental y excited delirium associated with the use of restraints and a Taser. The African-American woman's schizophrenia and bi-polar disorder were listed as contributing factors.
The new video begins with a deputy explaining that McKenna will be taken out of her jail cell in Fairfax and transferred to a jail in Alexandria by a special Emergency Response Team.
The special team was reportedly called because McKenna had previously attacked a jailer and had created a biohazard situation after throwing urine at guards. Deputies were concerned after medical tests showed McKenna had a number of communicable diseases, including herpes and MRSA, a report by Commonwealth's Attorney Ray Morrogh revealed.
One of the deputies begins the encounter by telling McKenna she will be taken out of her jail cell. McKenna is heard responding: "You promised me you wouldn't kill me!" She is then wrestled to the ground, where a struggle ensues for 15 to 20 minutes before she is cuffed and bound in a restraint chair. ABC News reported it is unclear why McKenna was naked at the time.
McKenna is tasered a total of four times towards the end of the struggle and is placed under a "spit sock," a lightweight hood used to prevent inmates from spitting at officers. Her vitals are taken twice before deputies perform resuscitation efforts. However, McKenna looses consciousness and is declared brain dead four days later on 7 February.
Although criminal charges will not be filed, the case is the subject of a federal civil rights investigation. Kincaid announced she would launch an internal investigation since the criminal investigation had ended.
© Copyright IBTimes 2023. All rights reserved.