It is several years into a Ukip government, after Nigel Farage was installed as the UK prime minister during the 2015 general election.
At 6am every morning, God Save The Queen screeches with a crackle out of speakers tied to the lampposts along Tooting Broadway. Time to get up.
The government doesn't switch on the internet or broadcast media until 7am to encourage breakfast bonding between the nuclear family. There has been a sharp spike in police call-outs to early morning domestic incidents since the policy was introduced.
A shortage of agricultural labour, since the UK shut its borders to the European Union, has sent food prices spiralling. The unemployed are forced into the fields, but there aren't enough of them. Production is down and import tariffs have been imposed by continental Europe. All of the EU's farming subsidies have disappeared. As have most Europeans.
"Good Riddance To Foreign Muck – Eat Better, Eat British," says the government slogan above supermarket fridges, bare except for cheddar, stilton and Bernard Matthews Turkey Ham. A black market for foreign muck has opened up, leading to sausage smugglers landing illicit chorizo and salami in Cornish coves.
The first people on the streets every morning are the milkmen and paperboys. Each has their own distinctive uniform. Milkmen are required by law to wear a white cap, light blue overalls and a jaunty smile. Paperboys must wear a khaki combat outfit with a Union Jack lapel badge, and conduct their deliveries in military step.
Under the Uniform Act, all service providers must wear the uniform designated to their industry. Cab drivers, for example, wear a fitted black suit, knee-high black leather boots and chauffeur's cap. They look like SS officers on a budget.
At 7am, the BBC begins broadcasting. Before the news bulletin, Prime Minister Nigel Farage gives a daily address from his Downing Street office.
Sitting behind an oak desk, a cigarette smouldering in the ashtray and a coffee mug next to it, Farage issues his one-minute broadcast about the day's upcoming events and signs off with "the People's Army of Ukip salutes you," before fading to a rippling Union Jack as Land Of Hope And Glory plays. It's customary for families to salute the television in reply. Some offer two fingers.
When the radio – known once again in common parlance as "the wireless" – comes on, it's back-to-back Church of England hymns, Winston Churchill's wartime speeches, and Mike Read hits. Number 1 in the top 40 is Jerusalem, Sir Hubert Parry's remix of the William Blake poem. Number 2 is a controversial dubstep rendition of To Be A Pilgrim.
Read has become a cultural icon since the runaway success of his Ukip Calypso. He even won a Mobo before the awards ceremony was banned by Ukip for being racist against white people. Such is Read's status within British society, there are plans to give him a state funeral when he dies. His cadaver will be cast in bronze and will replace Nelson Mandela in Parliament Square, next to the recently erected Bernard Manning Memorial Fountain.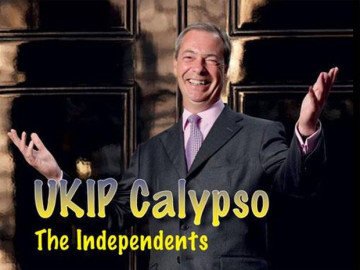 Mandela will be smelted down and used as bullets for the British Border Guards, who patrol the southern coastline sinking suspicious boats in the Channel – a continuation of the policy first begun in the dying days of the Cameron administration: that it's better to let migrants drown than save their lives and risk encouraging more of them.
Budding financial professionals are being churned out of the country's education system, in which only grammar and private schools are permitted to exist. The national curriculum has been scrapped, replaced with the following core subjects: Entrepreneurial Mathematics, Great British Imperial History, Anglican Science, and Financial Markets.
Farage is attempting to build up new trade links with the non-European world after being banned from entering EU countries for calling his German counterpart, Angela Merkel, a "sour kraut" at a G7 summit.
In order to placate international political alliances with the far right, and the lucrative European funding they bring Ukip, teaching the Holocaust has been outlawed in schools and museums.
Should any children ask about the Holocaust, the Department for Education has instructed teachers to distract them with pictures of Spitfires and paeans of praise for the Blitz Spirit. Persistent children should be caned into silence.
Once they leave school, children must conduct a tour of National Service: a year spent sniping at rogue dinghies from a coastal guard tower.
As a result of the curriculum changes, many more people in the south of England work in the City of London, which has trebled in size since Farage took power. Business relations with Putin's Russia have been ramped up with tens of billions of "don't ask, won't tell" rubles pouring into London.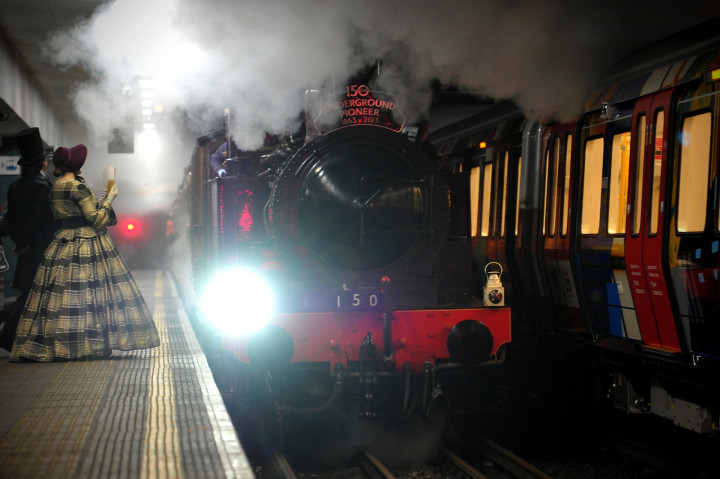 And commuters into London are the first to benefit from Ukip's railway reforms. Trains into London are being transformed back to their Victorian resplendence, as a new generation of steam engines is trialled on the network. Transport museums up and down the country have been raided to supply the rolling stock.
Aboard the retro-expresses everyone sits nervously wondering if the person next to them is British or not. For those suspecting a foreigner is on the train, it's best to recall articles iii and vii of the official Ukip Guide to Staying Safe: "Do not make eye contact" and "Keep valuables hidden".
Women may also consider article xi: "Wear drab and frumpy clothes to deter predatory sexual assailants".
"Evening All"
There has been a huge hiring drive for police officers. Their uniforms were recreated from a Ladybird book of Jobs, circa 1965: navy blue suits, shiny buttons, and big pointy helmets with a chin strap. They are instructed to swing their batons and whistle as they patrol.
Modernity is not completely lost on the police under Ukip though. As well as a metal whistle around their necks, each is armed with an assault rifle: a weapon known colloquially as the "migrant deflector".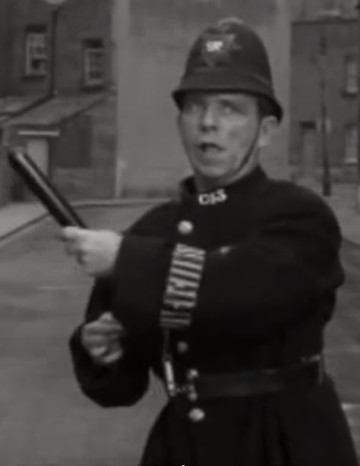 Most towns and cities are café wastelands lined by row after row of boarded-up Prets and Starbucks, which are unable to find staff to stay open. Instead, people rely on pubs for refreshment.
The pub industry has prospered since Ukip came to power. Ukip radicals have gone as far as proposing The Ponce Act, which would outlaw wine bars, cocktail bars and nightclubs (an exemption being made for strip clubs).
Such is the distrust of foreign entrants to Britain, tight controls have also been imposed on tourists (the What If The Buggers Run Off When They Get Here Act passed just one year into the Ukip government). Much of the international tourism industry has gone and attractions shuttered.
However, billions have been pumped into the decaying seaside towns of England's east coast. Clacton, Great Yarmouth, Margate, and Cromer are now Kiss-Me-Quick theme parks to the golden age of the British seaside holiday. Re-enacted punch-ups between Mods and Rockers are the highlight of any summer season.
A Pint in The Bongo Bongo
Two men are talking outside the City of London's most popular pub, The Bongo Bongo. One tells the other he had to wait 48 hours to be tended to in A&E for his broken arm because of a shortage of nurses. The staff wore uniforms sponsored by Wal-Mart, as much of the NHS has now been solved off to US conglomerates. On the upside, he said, he was allowed to smoke in there after Ukip lifted the smoking in the workplace ban.
In The Bongo Bongo, only real ale, scotch, British beef meat pies, and fags are served. The speciality ale is a nut-brown Grinning Nige – initially refreshing on the palette, it leaves a bitter aftertaste.
Smog cloaks the city outside after the collapse of the UK's renewable energy industry. The government cut taxes for fossil fuel firms and encouraged a resurgence in the use of coal. Wind farms, or "spinning air demons" were torn down by angry mobs of rural property owners chanting "we want our equity back" within hours of the Ukip election victory.
Up in the far north of England, work is well underway to rebuild Hadrian's Wall. Scotland quickly left the UK after Farage came to power. The new Wall will be 100ft high, 25ft thick and have only one gate for getting in and out of Scotland. Known as "Nigel's Fence", a government spokesman said its purpose is to "pen in the Scots so we can just let them get on with it".
While large parts of the country's infrastructure have been receiving investment – such as the project to brick up the Channel Tunnel – Ukip has come up with a novel plan for flood defences: it has outlawed homosexuality. But as the rains have continued, so the government is discussing a broadening of its ban to include camp men and women with short hair.
The television and internet are shut off from 6.30pm until 7:30pm – again to encourage familial bonding over a meal. Usually, it's meat and two veg – only quite often without the veg. Or the meat. Wartime cookbooks have come back into fashion as households struggle to cope with food shortages.
When the telly comes back on, there's often a football match for entertainment. As visa rejections for foreign workers are more common than approvals, when an international footballer from Brazil attempted to join one of the UK's best teams on a £100,000 a week salary, he was rebuffed by border officials on the grounds that he may try to claim benefits.
This policy has led to teams like Chelsea and Manchester United being hollowed out, and now-top flight matches look like provincial Sunday league fixtures.
Other times there are documentaries. These must be pre-approved by the government before being allowed to air to ensure they meet a strict set of guidelines, including a requirement to focus on the British perspective. The most popular programme was called The Empire: Not Actually That Bad After All When You Think About It.
Out in the dimly-lit streets (thanks to another brown out) the kids are excitedly gathering for the Halloween trick-or-treating. By far the most popular mask is a "Brandy" – a grotesque impression of the hated former comedian, turned anti-capitalist polemicist, Russell Brand.
Once ever-present in the pre-Farage liberal media, the "Hairy One" – who experienced shock-induced alopecia when Ukip was elected and is now completely bald – was blacklisted in 2016, and was last spotted selling veggie burgers outside West Ham's football ground.
The Fable of Horseland
Closing the day is another message from the prime minister. Farage appears again, sitting back in a Chesterfield in his striped pyjamas, chuffing a pipe before bed. He often uses this time to tell a brief parable or allegory. The most memorable is called "Horseland".
"Let me tell you a little story," Farage says, softly. "A dog was born in a kennel. It wasn't a special dog, but at least it was among other dogs in Dogland. And these dogs all had the responsibility to look after one another. But this dog didn't want to take responsibility for itself and others.
"Instead, he liked the look of a stable, called Horseland, where all the horses lived. They were richer and more civilised than the dogs, and the dog wanted the horses to look after him. So he emigrated from Dogland to Horseland. Eventually, all of the other dogs followed and Horseland became so over-full that it couldn't look after all the dogs. And the dogs brought rabies with them. Then all of the horses died of rabies and only the uncivilised dogs were left alive.
"A tragic tale, I know. But there's an important moral here. If a dog lives in a stable, it's going to put a strain on the horses' resources, create cultural tensions and spread diseases not native to Horseland.
"Something to think about in our slumbers. Good night and God bless, Great England".