Faryal Makhdoom posts defiant messages on social media after Twitter spat with Amir Khan
Sharing a selfie on Instagram she added the caption 'hold your head high' as Khan admits he is 'gutted' his marriage is over.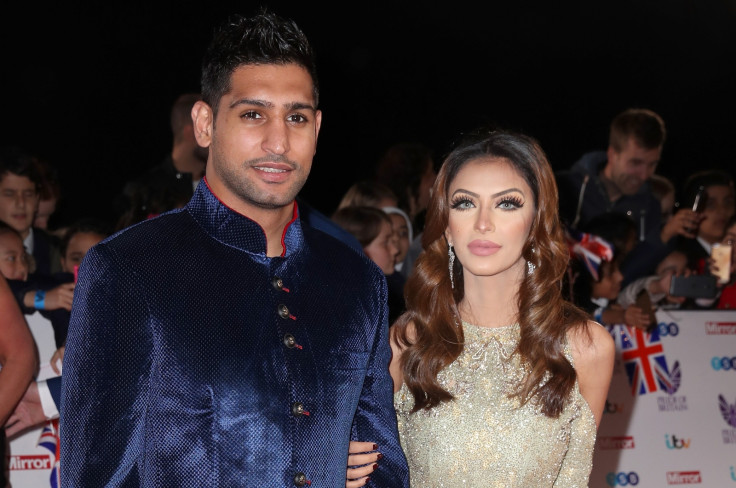 Faryal Makhdoom made it clear she isn't going to walk away from her marriage quietly.
Just a day after she and her husband Amir Khan engaged in a sensational Twitter spat that had social media users riveted, she was back online with some fighting talk of her own.
Sharing a quote from an account called 'The Noble Qu'ran', she tweeted: "And be moderate (or show no arrogance) in your walking and lower your voice."
And she appeared defiant as she posted her first selfie since her husband announced he planned to divorce her after accusing her of cheating with fellow boxer Anthony Joshua. Dressed in an off-the-shoulder top and ripped jeans she added the message 'hold your head high'.
The couple's four year marriage has been played out in public following a family feud after her in-laws accused her of being a gold digger and dressing in an un-Islamic fashion.
Faryal reportedly gave Khan an ultimatum forcing him to choose between her and his parents. While the Bolton-born star initially stood by his wife, the turbulent relationship seems to have taken its toll on Khan.
Things apparently came to a head during a trip to Dubai where the couple were celebrating Faryal's birthday prompting Khan to publicly announce his intention to divorce Faryal.
In a series of tweets he wrote: "So me and the wife Faryal have agreed to split. I'm currently in Dubai. Wish her all the best.
"Faryal moved on quick. Always mentioned to me how much she wanted to be with another guy, from all people another boxer," he said.
Continuing his rant he added: "Lol moved up in the weight classes lol. Trust me I ain't the jealous type. No need to send me pictures of the men your talking to #disgusted
"Left my family and friends for this Faryal. I'm not hurt but another fighter. I'm making it public. You getting the divorce #Golddigger. Mans like Joshua can have my left overs!"
The 26-year-old model responded to the allegations of infidelity with her own angry tweets, but later back-tracked. Seemingly in the hope of making amends with her husband she deleted the conversation and claimed their accounts had been hacked.
However, her plan back-fired as the Olympic champion filmed a Snapchat video confirming that the tweets were genuine and expressing his unhappiness in his marriage and his intention to move on.
"Everything you saw on social media, it is real. Obviously, me and Faryal have decided to move on and I have decided walk away. Nothing has been hacked. We have to move forward it's not healthy for any of us. I'm just not happy with the way I get treated by her.
"I wish her all the best in the future. Don't want you guys to worry. I am staying strong. Big thank you for all your support. What's done is done, it's all true."
A source told Mail Online: "Amir stood his ground and told her that it was over and that he had mentally decided to move on from her and that he was unable to take it anymore. He hung up on her and when she texted again with threatening messages, he released video message to put an end to it all."
Makhdoom allegedly told Khan that they were not officially divorced because he had not said the Talaak (Arabic for divorce) to her three times as tradition requires. Khan then texted her 'talaak, talaak, talaak' said the source.
The mother-of-one reportedly called on her parents in New York to reach out to her in-laws in Bolton in the hope of building bridges, however Khan seems to have made up his mind that the marriage is over.
His brother Haroon told the Sun that if they had split it would be 'a huge relief' for the family. "This is a shock but, if true, not unexpected. We've heard the rumours and we're trying to find out exactly what's happened," he said.
While Sajjad, Khan's father previously said he hoped they could work things out for the sake of their daughter he was also very clear about his feelings for his daughter-in-law.
He previously said: "She's a gold digger and she's very false, in fact she's 100 per cent fake and my son and we are all finally seeing through her."
As for Amir Khan, the boxer admitted he was 'gutted' that his marriage was over. Speaking to the Mirror he said he had trouble sleeping after his public break-up.
"I don't know what to say. I'm gutted. I've not slept all night. I went to see some people at the marina and I've been up all night. I couldn't sleep. I need time to think," he said. "I just need to rest and to speak to some people."
© Copyright IBTimes 2023. All rights reserved.