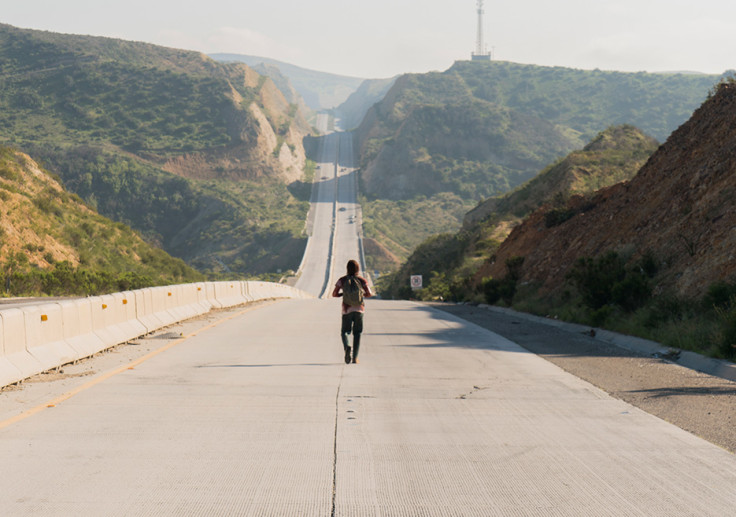 Fear the Walking Dead season 2 returns to AMC on Sunday (21 August). The mid-season premiere episode is titled as Grotesque. According to the synopsis, Nick's steadfast search for answers leads him into a deadly dog-eat-dog landscape. A dark piece of his past is uncovered.
Where to watch
Click here to watch the episode live online on the network. In case you miss the episode during the screening time, you can download the AMC app via Google Play, iTunes, Xbox, Amazon and Netflix to watch it on the go.
Fear TWD Episode 8 overview:
In the previous episode, the group consisting of the Manawas (Travis and his son Chris), the Clarkes (Madison and her children Alicia and Nick) and the owner of the yacht Abigail – Strand – was disoriented.
The events that took place at the Abigail compound in the previous episode have set all characters adrift as the zombie apocalypses slowly started consuming them. Chris' violent behaviour forced Travis to say goodbye to his ladylove Madison and save his son from the apocalyptic darkness. Nick decided to walk alone on a path unknown as he still feels zombies are living human beings.
Now he must forge his own paths to survive and according to the synopsis it won't be easy. As the title suggests, Nick will embark on a gut wrenching journey of survival while his mother still hopes to get him back. The official promo hints that Madison's son might get confused with living and zombie humans and might turn into a living zombie.
Alicia, on the other hand, struggles with Madison's refusal to let Nick go. Strand is lost in grief, and the power of Daniel's dark past leaves Ofelia disillusioned about their survival and ability to rebuild new lives.
Fear the Walking Dead premieres exclusively on AMC Global in on 21 August at 9pm ET - simultaneous to the AMC US premiere - with repeats later that evening in prime time in local markets (where applicable).