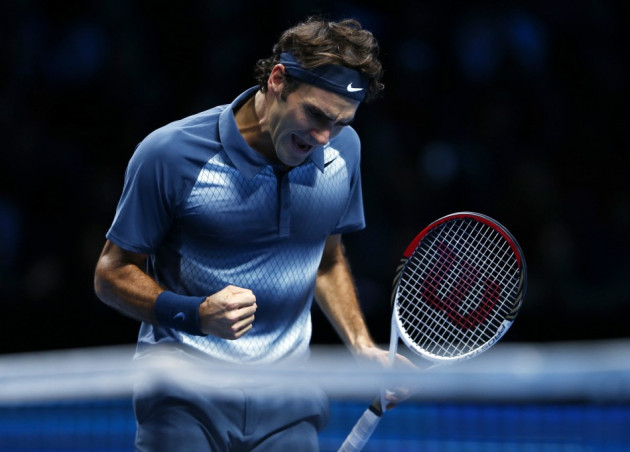 Roger Federer staged a dazzling comeback against Juan Martin del Potro to book a semi-final showdown with Rafael Nadal at the ATP World Tour Finals at London's O2 Arena.
Federer prevailed 4-6 7-6 7-5 after recovering from losing the first set and from a break down in the third to deny Del Potro a place in the last four.
The 32 year old is pursuing his seventh title at the season ending tour finals but must overcome Nadal, the world No.1, on Sunday before potentially facing either Novak Djokovic or fellow-Swiss Stanislas Wawrinka.
"Because of the last few weeks probably I stayed relatively calm inside because I had a lot of ups and downs throughout the matches in Basel and in Paris, then again here," said Federer
"So for that reason I think that helped for me today not to worry too much. I wasn't in many of Juan Martin's service games, so I kind of felt like probably I will get one more chance to break back. It's exactly what happened. Once on even terms, I was able to play a little bit more freely.
"For the first time I was almost feeling like I was kind of in the lead. Great finish. I was very happy. To get the victory was a great feeling, so I was very happy."
On his 32nd career meeting with Nadal on Sunday, the 17-time grand slam champion added: "I just have to have the right mindset to give it one last go, maybe play with a little less pressure than I have in previous matches maybe with him.
"I just feel like I need to look at it more as being an underdog a little bit because of circumstances, because of my year, because of his year. Maybe that free swinging is what I kind of need to do a little bit more tomorrow.
"I mean, we know each other that well. He's going to do exactly what he needs to do, I'm going to try to do what I need to do."
Del Potro had beaten Richard Gasquet in his opening round robin match, but three set defeats to Djokovic and Federer has seen the Argentine's outstanding 2013 end prematurely.
"I think I got two chances to win the match," the world No.5 said. "I broke his serve in the second set and in the third one. I think was another close match.
"In the end when you have to be focus and find the winners, I made the mistakes, and he was there really focused to take the chance. I think that was the key of the match.
"I think I did a great season. Maybe I finish in the top five after three years and a half, which is really good see my ranking and see my name in the top positions. For this year was my goal, trying to play in the same level than the top guys."
In the evening session, defending champion Djokovic secured his third round robin win by defeating Gasquet 7-6 4-6 6-3 to continue his unbeaten run since the US Open.
The world No.2, who plays Wawrinka on Sunday evening for a place in the final, said: "I knew coming into this match that I qualified for the semi-finals, and even though I really wanted to perform at my best Richard came out really aggressive
"I didn't move too well. Richard has one of the best backhands on the tour. It was a pleasure to play against him and I wish him all the best."