US federal investigators have linked money from a suspected $10m (£6.6m) bribe allegedly paid by South Africa to host the 2010 World Cup to the top deputy of Fifa boss Sepp Blatter.
Jérôme Valcke, Fifa's secretary general, is the unidentified "high-ranking FIFA official" who prosecutors said in court papers transferred $10m in 2008 from Fifa to accounts controlled by another football official, Jack Warner, reports the New York Times.
Warner, former head of the Concacaf body of Fifa, is one of 14 current and former football officials and sports marketing officials indicted in a ground-breaking corruption and money laundering case brought by the US Attorney last week. He's accused of accepting the bribe from South Africa. Valcke's suspected link to the money puts the case much closer to Blatter than previously known.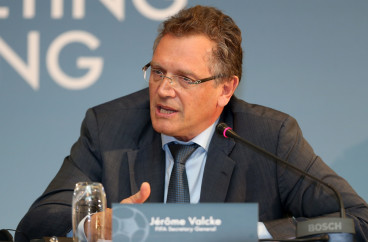 Valcke hasn't been indicted nor was he identified in the indictment as a so-conspirator. Nor does the indictment say the "high-ranking official" knew the funds he transferred were linked to a bribe. However, The Times said officials and others who identified Valcke spoke on condition of anonymity because they were not authorised to discuss the investigation.
Valcke said in an email to the Times that he had not authorised the payment and did not have the power to do so.
Danny Jordaan, the chief executive of South Africa's World Cup bid and the current president of its soccer federation, has said the money wasn't a bribe but a contribution to a Caribbean soccer development fund.
The $10m payment was made in three wire transfers in early 2008, according to the indictment. Blatter has denied any role in the suspected bribe. "Definitely that is not me. I have no $10m," he said.
Meanwhile, Fifa announced on 1 June that, "due to the current situation," Valcke would not attend the opening of the Women's World Cup in Canada next week. "It is important that he attends to matters at Fifa's headquarters in Zurich," the organisation said in a statement.
More indictments are expected as the investigation continues and some of the figures arrested may co-operate with federal officials in the hope of reduced sentences.