Embattled Fifa president Sepp Blatter has "lawyered up", hiring a top US counsel to represent him, as a corruption probe dug deeper into the world footballing body.
And Blatter's deputy, secretary general Jérôme Valcke, is reported also to have hired a prominent New York defence lawyer, Barry Berke.
A source told Reuters that Blatter, who has announced intention to stand down as president just days after being re-elected for a fifth term on 29 May, has retained Richard Cullen, the chairman of the law firm McGuireWoods and a former US federal prosecutor.
The move came as a Swiss corruption probe was said to have identified 53 suspicious bank transactions, attorney general Michael Lauber said on 17 June. He stressed, however, that the investigation might take time because his office had seized a massive nine terabytes of data – the equivalent of about 900,000 phone directories – from Fifa computers.
Lauber told journalists he would not rule out interviewing Blatter and Valcke.
He said: "We are faced with a complex investigation with many international implications. The world of football needs to be patient. By its nature, this investigation will take more than the legendary 90 minutes."
Lauber added: "There will be formal interviews of all relevant people. By definition, this does not exclude interviewing the president of Fifa and this does not exclude interviewing the secretary general of Fifa."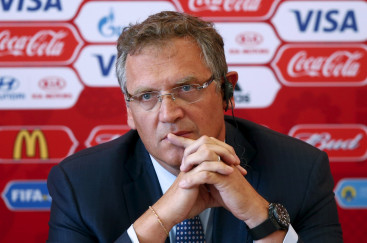 He said his team had evidence on 104 bank-client relationships, each of which represented several accounts. And Lauber made it clear that his investigation was completely independent of a separate FBI probe into Fifa corruption.
Swiss police and prosecutors are looking into the bidding process for the hosting of the 2018 and 2022 World Cups, awarded to Russia and Qatar respectively. Both countries deny wrongdoing.
Lauber said his team was looking closely at material generated by Michael Garcia, an American lawyer hired by Fifa to investigate ethics violations. Garcia's report lies unpublished and he quit the ethics committee after saying a summary which exonerated Russia's and Qatar's actions had mischaracterised it.
Garcia's successor, Cornel Borbely said he had continued the US lawyer's work. "The [ethics committee] is carrying out several proceedings into football officials on suspicion of breach of the Fifa Code of Ethics based on the findings of the investigation into the decision for the 2018 and 2022 World Cups," Borbely said in a statement.
"Should new evidence come to light, the investigatory chamber will widen the group of suspects. [It] is prepared to increase its staff numbers at any time if needed."
Meanwhile, Reuters reported that Valcke has retained Berke, a partner at Kramer Levin Naftalis & Frankel.
US prosecutors allege that Valcke was involved in $10m (£6.5m) in Fifa bank transactions – although he has not been accused of wrongdoing.
Valcke has said that while he had signed off on the transactions he had done nothing wrong, adding that allegations against him were "insanity".