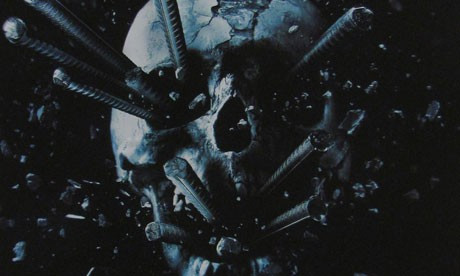 A poster campaign for the horror sequel Final Destination 5 has been banned by the Advertising Standards Authority after it was deemed as being too violent for children.
The poster for the Warner Bros film, which appeared on buses and Underground billboards over the summer, showed a skull being skewered by iron rods driven through its mouth and eye sockets.
The advertising watchdog has now banned the ad from appearing in its original form again after it ruled that the image "was likely to cause fear and undue distress to children".
The ASA said that it had received a number complaints about the poster since it was launched to promote the latest Final Destination movie, accompanied by the message "It's not if, it's when".
The Hollywood studio Warner Bros, the film's distributor, defended the ad, claiming the poster "accurately reflected the content of the film in an appropriate manner without causing excessive fear or distress".
It also argued that the poster was of a "fantasy image", which did not feature people, blood or display "any real life or interpersonal violence".
Despite running over the summer, the ASA supported it's decision to block the poster, saying: "We considered the image was likely to catch the attention of children, especially because it was shown on a poster on the Underground, where it was an untargeted medium.
"Because very young children might view this ad depicting violence, it was likely to cause fear and undue distress to children."
Final Destination 5 is due to be released on Blu-ray and DVD on Boxing Day.