Final Fantasy 7 Remake and Shenmue 3 news is a timely reminder of the perils of E3 hype
Two years ago Sony blew our minds with two huge announcements. The reality is a lot less exciting.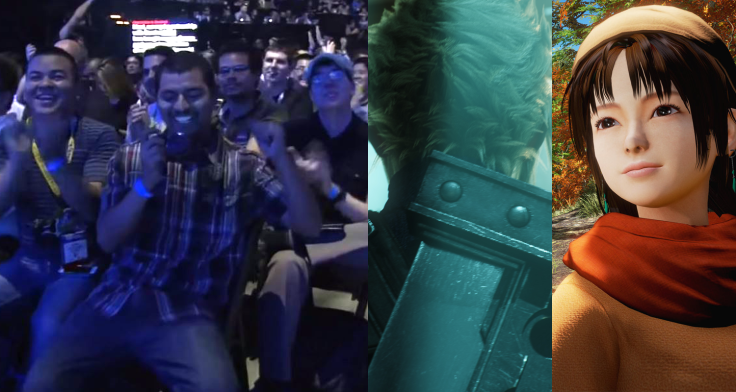 Two years ago, Sony delivered a rip-roaring E3 press conference punctuated by three industry-shaking reveals. The show opened with the reintroduction of The Last Guardian, but it was the announcements of a Final Fantasy 7 remake and Shenmue 3 that really shocked the world.
Each year, the gaming world turns its attention to the series of lavish showcases, put on by the world's biggest video game companies, that take place before the LA Convention Centre's doors swing open to allow the media, and this year the public, to get their hands on future releases.
E3 always toes an uneasy line between being a festival for those with an excitable, enthusiastic love for video games and being a celebration of the companies that ultimately just want our hard-earned money.
When Sony showed off The Last Guardian, Final Fantasy 7 Remake and Shenmue 3 at E3 2015, it was only natural that people got excited.
Like so many, we at IBTimes UK couldn't believe what we were witnessing. Expletives were yelled.
The announcements were completely unexpected, answered calls fans had been making for years and it was ultimately all good news - but many all-too-easily ignored the huge caveats that came with each project.
The Last Guardian, six years on from its very first announcement as a PS3 project, eventually came good, releasing in late 2016. The other two games, revealed during the earliest days of their development, haven't fared as well.
This past weekend (26-29 May) news has broken that work on Final Fantasy 7 Remake is to move in-house at Square Enix, suggesting development at external studio CyberConnect2 has been troubled. Meanwhile, Shenmue 3 developer Ys Net revealed the game won't be making an appearance at E3 in June in its latest update for Kickstarter backers.
No one reasonably expected either game to release so soon, but it won't be long until the lengthy stretch between announcement and release starts to grate on fans eager to play both long-awaited games.
So these latest developments serve as a timely reminder, less than two weeks before E3 2017 begins, that for all the hype that engulfs E3 every announcement and every promise made should be met with skepticism.
We've seen similar stories with Crackdown 3 and the now-cancelled Scalebound from Microsoft, which were both announced in 2014. These announcements were all made in the second full year of this console cycle, when Microsoft and Sony wanted to respectively catch up and sure its footing in the ongoing sales battle.
Hideo Kojima's Death Stranding, which was announced at E3 2016, will undoubtedly suffer a similar fate. Kojima took his time with his Metal Gear Solid entries, and those were supported by a major publisher. Finding his feet as leader of his own studio will surely only prolong production of his first game since leaving Konami.
Not that we should naturally assume the worst of every bit of E3 news. Recently studios have got wise to the frustration lengthy marketing campaigns can have, and so we've seen games announced and released within six to eight months - such as Bethesda's Fallout 4 and Ubisoft's Watch Dogs 2.
E3 is always a fun time for fans of video games, but buying wholesale into the hype generated as much by those running the show as those enjoying it, is to the benefit of nobody except companies hungry for pre-orders.
For all the latest video game news follow us on Twitter @IBTGamesUK.
© Copyright IBTimes 2023. All rights reserved.