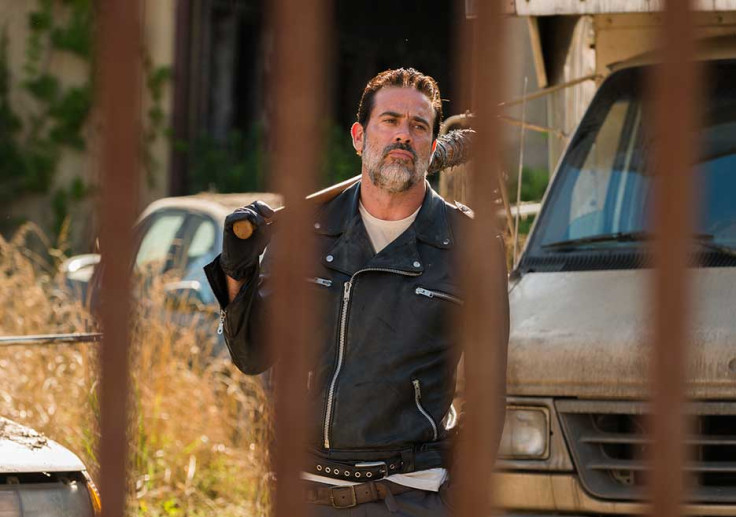 In terms of his brutal actions in the zombie apocalypse series, there is one villainous character that has the world talking in The Walking Dead and his name is Negan. And if you ever wondered where on earth the name 'Negan' came from, then your question may be finally answered.
Since the character first appeared in the comics – were written by Robert Kirkman – fans have wondered if Negan is a real or made up name. And now on the chat show, Talking Dead, Kirkman has finally revealed where it derived from.
In the interview, Kirkman said that one of the things he likes to do when brainstorming for his work is to make up names that "aren't really names." He then Googles them to see if there is actually a person in the world called that somewhere, and then if not, proceeds to name one of his characters that.
He said: "I just wanted the name to sound negative in some way, so I was calling him 'Nagus' for a long time, which is just a word I thought I pulled from thin air.
"But apparently that's the Ferengi leader in Star Trek: Deep Space 9, so I was like, 'Well I can't call him Nagus.' So then I was like, 'Okay, Negan, that sounds fine.'"
Some of the most shocking scenes of the whole television series have thus far come from Negan's brutal actions. At the beginning of season 7, viewers discovered that he had murdered Glenn with his spiky baseball bat named Lucille, graphically leaving his eye beaten out of its socket.
TWD reigns as television's most watched drama for adults 18-49 and follows a group of survivors, led by police officer Rick Grimes, who travel in search of a safe and secure home following a zombie apocalypse.
The Walking Dead is set to return to AMC on Sunday 12 February.