Find out who fellow MMA fighters pick to win between Conor McGregor and Eddie Alvarez at UFC 205
UFC 205 takes place in Madison Square Garden on 12 November.
The Conor McGregor and Eddie Alvarez fight at the UFC 205 event which takes place on 12 November at the historical New York Madison Square Garden has got everyone excited with the whole world waiting to see if the Irishman will create history by becoming the first fighter in UFC to hold two belts or if Alvarez ends the hype around Notorious by beating him.
It is not only the Mixed Martial Arts (MMA) fans who are excited about the upcoming match but also the fighters who are keen to watch their counterparts in action. With the anticipation increasing day by day the MMA fighters gave their own views on who they thought would emerge victorious come 12 November.
Thirteen fighters were asked to choose between McGregor and Alvarez with six going for the Irishman and six choosing Alvarez while undefeated UFC featherweight Mirsad Bektic could not decide.
Jimi Manuwa who is one of the most exciting fighters at present went for Notorious claiming that McGregor would go completely against character and would employ the technique and methods used by Nate Diaz to beat him at UFC 196.
"I think Conor wins this one and becomes two-weight world champion. I think he has got too many skills in the tool box for Alvarez. I just think Eddie's, he's not one dimensional but I think he is limited. So, I think Conor's going to use his skills, his spinning stuff and all his ninja sh*t and he's going to get the win", said Manuwa to MMACrazyTV.
However, Alvarez who is the current lightweight champion has his supporters with Gegard Mousasi and Stefan Struve rooting for him.
"Eddie Alvarez is going to win. He's going to win by strike or submission in the third round", said Gegard Mousasi.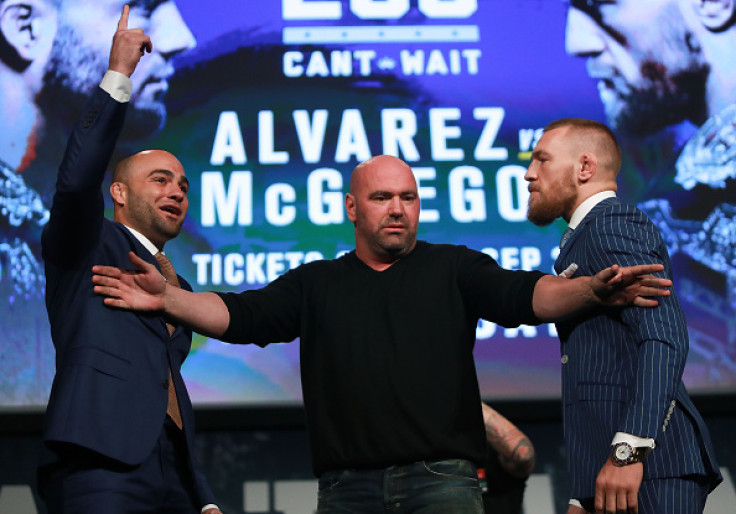 "I got to go with Eddie. My gut tells me that he's going to win the fight and usually I'm right. For me it's going to be important for him to get a hold of McGregor early and start grinding on him. Everybody saw that Conor really wore down after a round and a half. If you can already take that round and a half out of him by grinding on him to slow him down, then I think an athlete like Eddie's got a huge advantage and he's got the skill set to give Conor a really tough fight", added Stefan Struve.
© Copyright IBTimes 2023. All rights reserved.