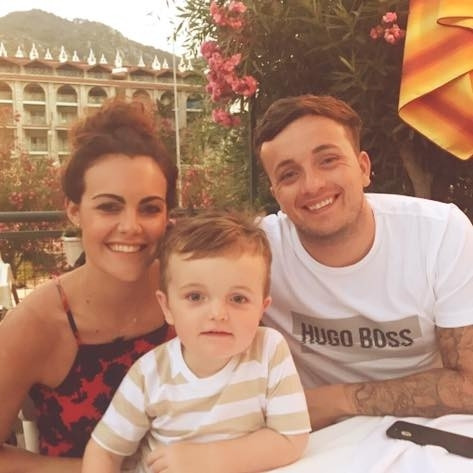 A young father is fighting for his life after being found unconscious in the street with serious head injuries just hours into his stag do in Magaluf.
Firefighter Alex Green, 26, was found with a bleed to the brain and fractures to his eye sockets. The father-of-one from Rochdale, Greater Manchester, also sustained a fractured cheek bone and nose, as well as a collapsed lung.
He had flown to the party resort on Majorca with a group of 25 friends and family members, but he was found just six hours later with severe injuries.
His family became worried when he did not return after going to the toilet in a bar and after a search he was found on a nearby pavement.
Green was rushed to hospital and has undergone surgery, after which he was placed in an induced coma. It is not clear how the fireman sustained his injuries.
His fiancee Rebecca Thorpe has flown out to the Mediterranean island be with him. "We just can't stop crying, but he's amazing. We've got a two-year-old, we just want to get him home," she told the Manchester Evening News.
She said: "It's just so out of the ordinary. He such a good person, so hard working. He's such a devoted dad."
His friend Scott Cash, who was with him on the island, said: "I got a phone call from Alex's phone, and it was someone else telling me we needed to go to him. When we found him he was unconscious and his face was a mess. He had significant facial injuries.
"No one has got a clue what has happened to him. From what we can gather there was no CCTV where he was found. The group of us are very shaken. We just want him to get better."
His friends plan to raise £50,000 to cover the cost of his medical care and have set up a Just Giving page.
They have already raised just under £17,000 and they said that the "next few days are crucial for him".
The post online read: "Alex was only six hours into his stag do when he was in a very serious accident leaving him in intensive care with multiple injuries.
"He's in a stable condition however not quite pulled through yet and these next few days are crucial for him.
"All donations are simply to cover the cost of his care and see him returned home safely to his adored son Zach.
"Unfortunately, Alex had alcohol in his system which could affect/void any insurance cover he may have and therefore lead to the insurance company refusing to pay.
"He is surrounded by family and friends that love him and pray he pulls through this in the best way possible. Please say a prayer for him too."
The fundraising page for Alex can be found at justgiving.com/crowdfunding/ant-unzueta