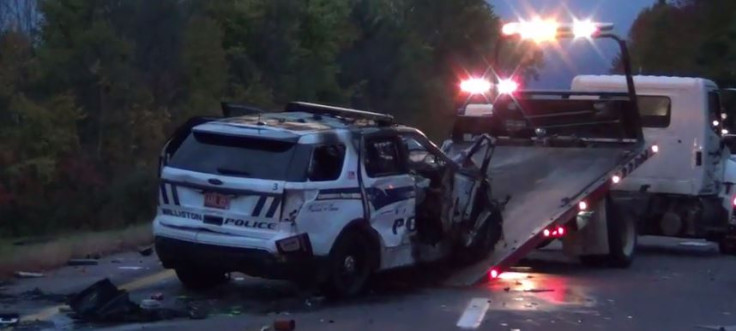 A series of horrific crashes caused by a man driving the wrong way down Interstate 89 in Vermont has left five people dead.
The suspect, named by police as Steven Bourgoin, drove northbound in the southbound lane until he collided with a car full of teenagers.
Bourgoin's car then burst into flame.
While one officer was trying to pull out a female victim from the teenagers' car and another was attempting to extinguish the fire, Bourgoin stole a police car and headed south towards Richmond, with the police lights on.
When Richmond police tried to stop him, he made a U-turn and began driving north in the southbound lane of the interstate.
Bourgoin, aged 36, then collided with seven more vehicles before he was flung from the police car, which then caught fire. At least one other car was on fire, according to witnesses.
Five people were pronounced dead at the scene, according to the Burlington Free Press.
Their identities are being withheld until they can be positively identified and their families are notified, said Vermont State Police Captain Mike Henry .
Steven Bourgoin was named as the driver of the stolen police car by CBS Burlington affiliate WCAX-TV.
Shane Moody told the Burlington Free Press he was driving south on I-89 when he noticed blue lights from police vehicles behind him and a number of cars pulled over on the side of the highway in front of him.
Moody pulled his car to the side just as he heard a loud bang, he said. After exiting his car, he noticed two cars on fire – one in the centre of the road and one down an embankment. Debris covered the roadway.
The state police sent out an alert via email at midnight (local time) on Sunday (9 October) saying the southbound lanes were closed, then amended the alert with another email about 15 minutes later adding the northbound lanes to the closure.
Bourgoin was taken into custody, with non-life-threatening injured, WCAX News said.