Five North Carolina police officers disciplined for not protecting protester punched by Trump supporter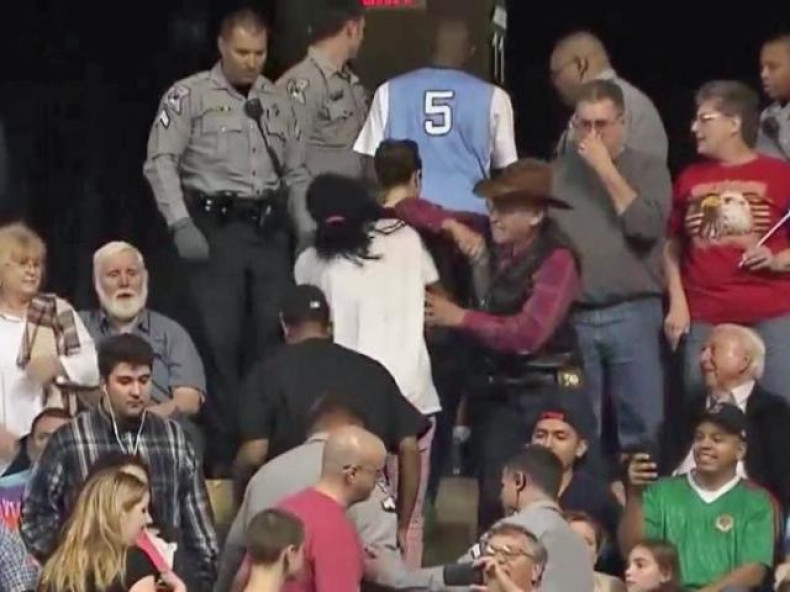 Five North Carolina police officers have been disciplined for failing to protect a protester at a Donald Trump rally who was punched in the face by a supporter.
The Cumberland County Sheriff's Office said the deputies witnessed the assault and didn't take action, and were penalized for "unsatisfactory performance and failing to discharge the duties and policies of the office of the sheriff".
"The actions of the deputies and their failures to act in situations such as that which occurred during the Trump rally at the Crown Coliseum have never been and will never be tolerated under the policies of this office," Sheriff Earl Butler said in a statement.
John Franklin McGraw, 78, who was arrested for the attack in early March, boasted to a reporter on video afterword: "You bet I liked ... knocking the hell out of that big mouth," referring to protester Rakeem Jones, 26. McGraw added: "Next time we may have to kill him."
Jones was being led out by police at a stadium rally in Lafayette when he was apparently punched then elbowed in the face. McGraw calmly returned to his seat, smiling, and police pounced on Jones and took no action against McGraw.
"I thought I was being arrested, to be honest," Jones said. "I saw that [McGraw] went back to his seat so I am trying to figure out why was he able to go back to his seat."
Three of the deputies were demoted and suspended for five days without pay, while the other two were suspended without pay for three days. All face a year of probation.
Jones hailed the action, telling WRAL-TV: "I applaud the sheriff's department for their work and finding the deputies responsible."
McGraw was charged with assault and battery and disorderly conduct in connection with the incident. He has also been charged with communicating threats for his comments later on tape.
Donald Trump's campaign rallies have come under harsh criticism for violence. His supporters have been filmed shoving, punching and kicking mostly minority protesters, yet McGraw was the first to be arrested for any assault.
Trump has encouraged supporters to "rough up" protesters, vowing to cover attacker's legal fees.