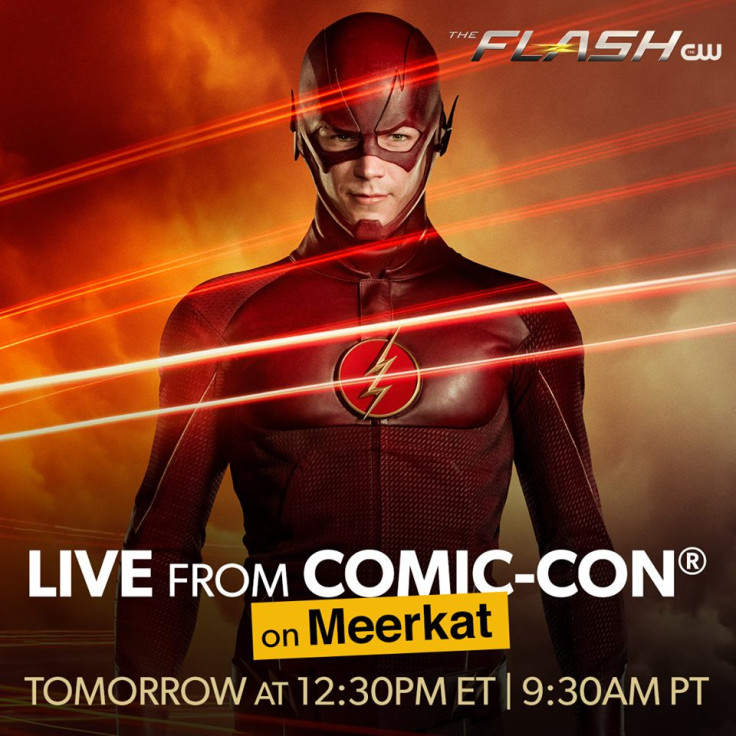 UPDATE: The Flash Comic-Con 2015 Highlight Reel is released. Watch it here.
The filming of The Flash season 2 is underway and going by reports a new trailer may be unveiled at the San Diego Comic-Con.
According to reports, Barry Allen will get a new suit next season as a new costume for The Flash has been unveiled at the Comic Con display.
Barry's costume featured the logo on his chest with a new white background instead of the usual red background. This minor change made the character's overall appearance as The Flash look much closer to how he was portrayed in the comic books.
The presence of Jay Garrick's winged helmet in The Flash season 2 finale was a pretty good indication that the Earth 2 speedster would be making an appearance on the show.
During the DC Entertainment Page to Screen panel, Geoff Johns confirmed that the winged helmet was a story point. He assured the audience that fans would see Jay Garrick in season 2.

In an interview with TVLine, Grant Gustin hinted at the possibility of a new love interest for the fastest man in the world.
"[Eddie's death] is definitely a factor, for sure," Gustin explained. "Barry wants to be there for Iris as her best friend right now. And for Barry, too. It's too soon for everybody. Some tragic events just took place!"
The show's executive producer Geoff Johns said, "There are a lot of new characters coming in, not just the ones that have been leaked online," adding that, "they all will challenge relationships, in good and bad ways."
Warner Bros Television & DC Entertainment have announced that fans will get a first look into the worlds of Arrow, The Flash and Gotham, plus a pilot screening of Supergirl and video presentations of DC's Legends Of Tomorrow and Vixen at the convention.
Here are a few things to expect in the new season trailer of The Flash.
1. Barry saving Central City: Fans saw Barry trying to save Central City by the end of season 1, and going by the premiere episode title The Man Who Saved Central City, the trailer may feature the Speedster, in his new costume, saving everyone.
2. Cisco as Vibe: Cisco Ramon, played by Carlos Valdes, was hinted to be another metahuman by The Reverse Flash, which could be the ground work to introduce his alter ego Vibe in the series. The season 2 Comic-Con may feature the lovable character turning into a killer villain.
In the comics, Vibe would have sonic powers, and his sonic waves will be strong enough to disrupt the Speed Force.
3. Multiple Universe: Grant Gustin has confirmed in an interview with TV Guide that the Multiverse is coming in The Flash season 2. "What's fun about this show is that there's going to be multiple timelines as we move forward," Gustin said. "I think we're going to start showing Earth-One and Earth-Two in the near future. There will be kind of different dimensions going on." Expect some new timelines in the season 2 SDCC video.
4. Barry and Iris: The season 2 trailer may see the two coming to terms with Eddie's sacrifice and moving on in life. Executive producer Andrew Kreisberg previewed that Barry and Iris will not get back together immediately, especially after Eddie's sacrifice
Kreisberg told Entertainment Weekly, "Obviously Iris is going to be dealing with that. Barry is going to be dealing with the fact that all Barry has ever wanted to do is protect Iris, and in the end it was Eddie who got to do it. Joe has lost his partner."
5. More Villains: Andrew Kreisberg promised that new villains could feature in Flash season 2.
Andrew Kreisberg said, "I think we definitely want to meet the Mirror Master next year...I'm sure Dr. Alchemy will show up at some point. And we've got one thing that hopefully people will lose their minds over."
Fans can expect some antics of the Mirror Master in season 2's trailer.
7. Tom Cavanah: The season 1 finale saw Tom Cavanah's character, Reverse Flash, burst into flames and start to fade into existence.
Executive producer Andrew Kreisberg confirmed "we have not seen the last of Tom Cavanagh."
We know that Tom Cavanagh is still a regular for season 2 but it will be interesting to see how he lived or how he will fit into the bigger picture. Eobard Thawne may feature in the season 2 trailer.
8. Wally West, Rip Hunter and Jay Garrick: The Flash season 2 trailer may feature a few more speedsters and a bunch of more villains, including Wally West, Rip Hunter and Jay Garrick.
The Flash season 2 will premiere on Tuesday, 6 October 2015 on The CW.